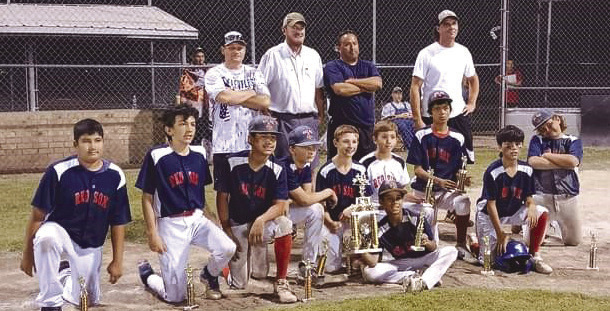 B: Sports, Newsletter
June 15, 2023
OK KIDS BASEBALL
Sallisaw OK Kids baseball teams ready for regionals
Sallisaw will be buzzing next week as not one but two OK Kids Regional Tournaments will be taking place at the Sallisaw Sports Complex.
The Sallisaw Red Sox will be the lone local representative in the age 12-and-Younger Regional Tournament, which will begin Thursday.
"I'm very excited," said Red Sox coach Mike Young, whose team will meet the winner of the Morris Patriots-Porum Panthers game at 7 p.m. Thursday in the winner's bracket semifinals. "The rest of the team is, too. They're all excited. They want to keep on going and go to state if they can. I have some big confidence in us. I believe we've got a chance. I think we'll be there in the end."
The 10-and-Younger Regional Tournament also will take place at the Sallisaw Sports Complex with two local teams in the field, the Sallisaw Bombers and the Sallisaw Biscuits.
"I'm more excited for the boys than anything," said Bombers coach Sean Taylor, whose squad will face the Stigler Aggies at 1 p.m. Tuesday in the first game of the tournament. "The boys deserve this. It will be an experience they won't forget. Overall, it's just a fun event. They're going to have a blast, no matter the outcome. They love baseball. They love to play. They're going to come give it their all. They're happy to be a part of it. When I let them know we were going to be a part of it (Sallisaw Regional Tournament), they were pumped up."
"We're excited about it," said Biscuits coach Ryan Hilgendorf, whose team will meet the Checotah Express at 2:45 p.m. Tuesday in a winner's-bracket quarterfinals. "We're pumped and loaded. We're good to go. We're absolutely looking forward to next week. We're ready to play some ball with some good teams that will come join us in our hometown."
All three coaches are excited to get to be at home.
"It feels great," Young said. "Like any sport, there's no place like home. Being at home boosts up their confidence. To get to represent Sallisaw is big, and we're going to see if we can't go win this thing for the kids. (Being at home) is a big deal. We're out here in our backyard. We don't have to get up and do the motel thing or traveling. You've got more hometown fans (being at home) and cheering on the hometown team. It's a big deal to us. It's a good thing. I like it. We're pretty excited."
"The field, no matter where it is, is always going to be 50-50," Taylor said. "The advantage of us getting to stay at home and not have to travel, that will be more comfortable. The parents are probably happier about that."
"I think it gives us two advantages," Hilgendorf said. "One of them is basically you're close (to home). You'll get a little more sleep than anyone else. Secondly, it gives us a little more pride because you're playing in your home town. Hometown people are coming to Sallisaw. It makes you play a little bit different when you're on your home field." OK Kids Salllisaw Baseball Regional Tournaments Director Jared Johnson could not be any happier about these next two weeks because there will be the Age 12-and-Younger State Tournament the following week at the Sallisaw Sports Complex.
"I'm pretty excited," Johnson said. "We like for the games to be held here for our teams that participate. We're allowed to have a host team. They aren't having to travel, but my 8U (Age 8-and-Younger) team is having to travel — they're participating in the Stroud regional. State will be the week after that, and we're only doing the 12U state here. Hopefully, we'll get our 12U team (Sallisaw Red Sox) that's in the regional will be able to participate in state as well. State will be the following week and start June 26. It's going to be a pretty hectic next two weeks. It's really good for Sallisaw. Teams will be coming in from everywhere."
The fourth Sallisaw OK Kids team to be in a regional are the Sallisaw Red Sox age 8-and-younger baseball team, which will hit the road to Stroud for their regional, in which they will meet the Shawnee PC Nationals at 5 p.m. Thursday in the winner's-bracket quarterfinals.
"As a coach, I'm excited," Red Sox coach Reece Bush said. "All the players are pretty pumped up about going to regionals, and possibly bringing (a) state (championship) to Sallisaw. This is our second year at attempting go to regionals. We're pretty excited to have another shot at it — hopefully, bring home a W for regional and state. This is our last year of coach pitch. The boys had a goal at the beginning of the season to go to regional and then go to state. The last time we went to state was two years ago when we went for T-ball. The boys have been trying to go to state for the last two years (in coach pitch). Here's our chance."
Traveling away from Sallisaw was a purpose plan.
"We wanted to get further away from the teams we've been used to playing," Bush said. "We don't want to go to regional and have it basically be handed to us. We want to go play teams we've never played before, and fight and have that chance to say that we earned the right to go to state. My main goal was, if we were going to go to state, I wanted to go (to a regional) where we haven't played any of the teams, and I want the kids to work hard to win it to deserve the right to go to state."
The OK Kids 10-and-Younger Regional Tournament also will include the Vian Wolverines, who will meet the Stigler Bandits at 4:30 p.m. Tuesday in the winner's-bracket quarterfinals.