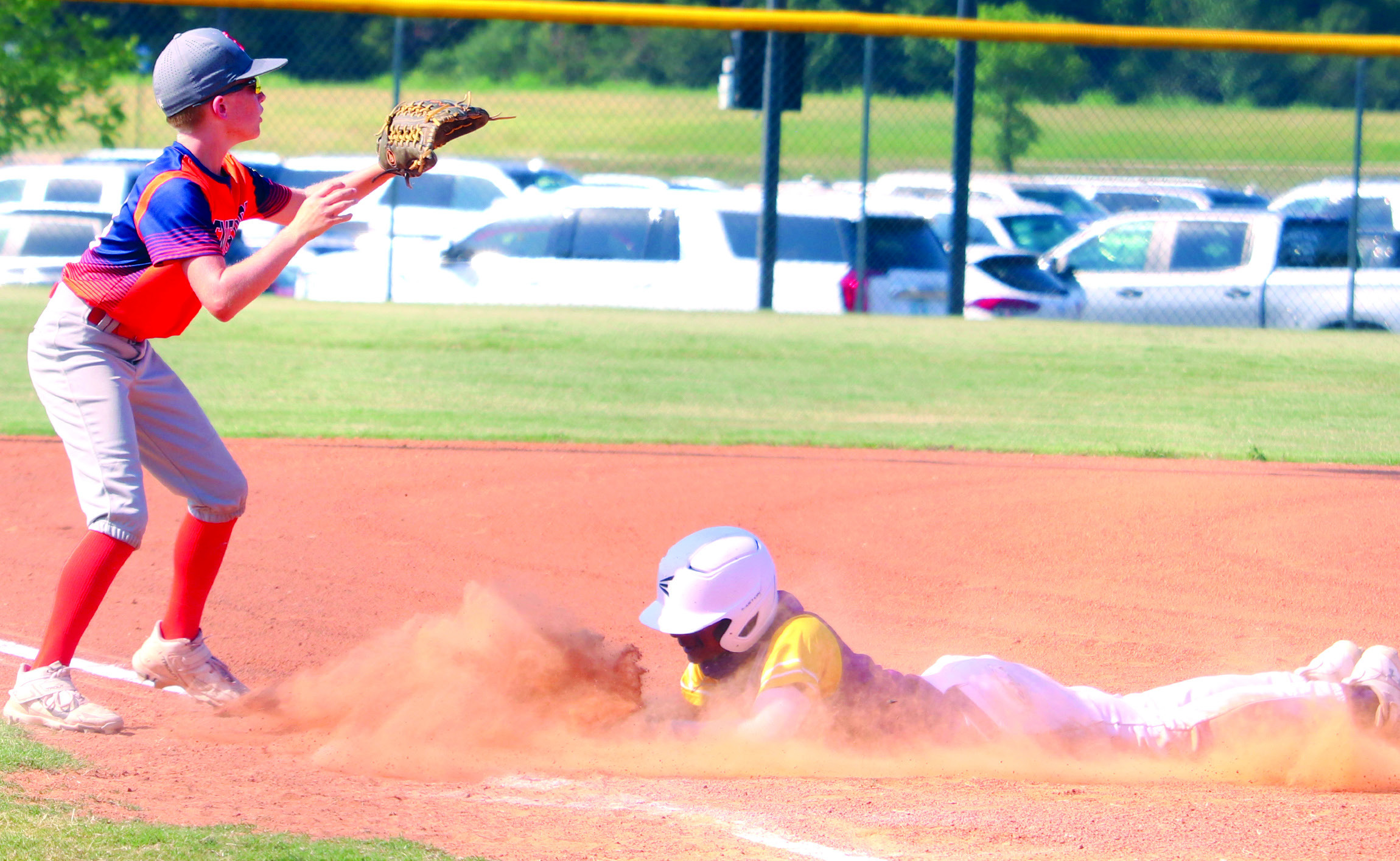 OK KIDS STATE TOURNAMENT
Vian Wolverines handle Alva Renegades to advance
The Vian Wolverines opened play in the 2023 OK Kids Age 12-and-Younger State Tournament with a 12-4 run-rule victory over the Alva Renegades in the winner's bracket quarterfinals Monday afternoon at the Sallisaw Sports Complex.
The Wolverines faced the Okarche Warriors, who run-ruled the Wynnewood Savages 13-3 in the first game of the day, in the winner's-bracket semifinals Tuesday night, with the winner meeting the Sallisaw Cardinals-Kingfisher Blue Jays winner in tonight's winner's-bracket final at 8 p.m. for the right to get to Friday afternoon's state championship series. The state final is slated for 5 p.m. Friday.
The Wolverines jumped out to a 2-0 lead in the opening inning on an RBI double by Zayden Cheater and an Alva error.
An RBI single by Mike Crowder and two more Alva errors helped produce three more runs in the second inning for a 5-0 Vian advantage.
The Renegades got an RBI double by Daveon Logan to cut their deficit to 5-1 after two innings.
An RBI double by Isaiah Drew, RBI singles by Jax Sumpter, Isaiah Owens and Crowder and another Alva miscue produced five runs for a 10-1 lead in the third inning.
Alva mounted another rally as an RBI single by Trell Rose, a wild pitch and a Vian error helped the Renegades score three runs to cut the deficit to 10-4 after three innings.
The Wolverines put the game into run-rule status with a two-run fifth inning thanks to an RBI double by Cheater and an RBI triple by Jeremiah Marshall for a 12-4 lead.
For the game, Drew was 3-for-3 with a run scored, Crowder was 3-for-4 with three runs scored and a run batted in, Cheater was 2-for-3 with two doubles, an RBI and two runs scored, Haeden Morris was 2-for-4 with two runs scored and an RBI and Marshall hit an RBI triple for Vian.
Morris got the win, with Logan Elms and Crowder also taking turns on the pitching mound for Vian.