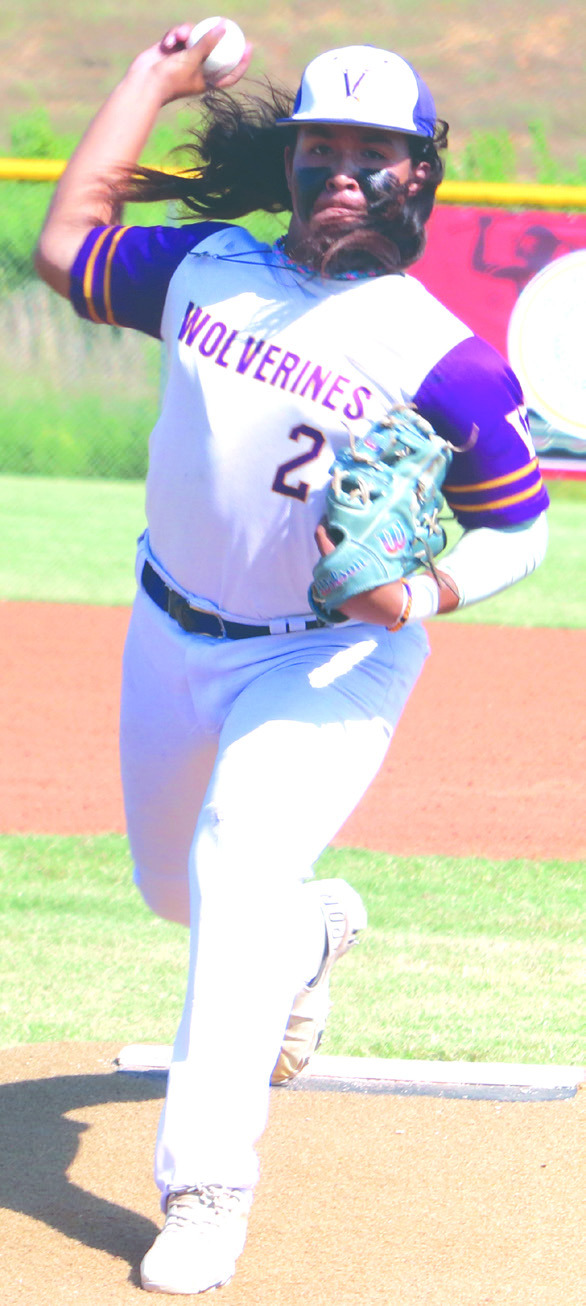 OK KIDS STATE TOURNAMENT
Losses to Okarche, Blanchard end season for Vian Wolverines at state tournament
After scoring a dozen runs in a 12-4 winner's-bracket quarterfinal win over the Alva Renegades on Monday afternoon, the bats were pretty much silenced on Wednesday as the Vian Wolverines saw their season end with a 4-0 loss to the Okarche Warriors in the winner's-bracket semifinals and a 5-3 loss to the Blanchard Boom in the loser's-bracket quarterfinals.
In the loss to Okarche, the Warriors got a complete-game performance from starting pitcher Jake Henderson, who struck out 16 batters in six innings and threw a no-hitter.
The Wolverines only saw three batters reach base. Logan Elms got hit by a pitch with two outs in the second inning, Haeden Morris walked with two outs in the third inning and Jeremiah Marshall walked with one out in the fourth inning.
The Warriors scored once in the first inning on an RBI fielder's choice by Jake Kroener for a 1-0 lead, then a wild pitch and an RBI single by Henderson upped Okarche's lead to 3-0 after two innings.
Terrel Sutton's RBI single in the fourth inning made it 4-0 in Okarche's favor.
Zayden Cheater took the loss. All total, Vian used four pitchers in the game. After Cheater started, Marshall came to the mound in the second inning, followed by Elms in the third inning and Mike Crowder in the fifth inning.
In the loss to Blanchard, Blanchard pitcher Kainen Wayland was masterful. He went the first 5.2 innings with eight strikeouts and scattered six hits.
Madox McKay's first-inning sacrifice fly in the first inning put the Boom ahead 1-0.
The Boom then got some insurance runs in the third inning as a two-run single by McKey and a two-out bases-loaded walk by Wayland upped Blanchard's lead to 4-0 after three innings.
Bruin Hefferman's RBI single in the sixth inning made it 5-0.
However, after being dominated by Wayland through five innings, the Wolverines finally mounted an offensive outburst against the Blanchard pitcher in the sixth inning.
A two-out, two-run triple by Marshall, followed by an RBI single by Rowdy Crittenden chased Wayland from the mound, and cut Vian's deficit to 5-3.
However, Blanchard relief pitcher Charlie Mann struck out Isaiah Owens to end the game, and the season for Vian.
In defeat, Marshall was Vian's only multiple-hit batter, going 2-for-3 with a two-run triple and a run scored.
Morris started the game and went the first 2.2 innings with three strikeouts, but took the loss. Crowder went the final 3.1 innings with six Ks.