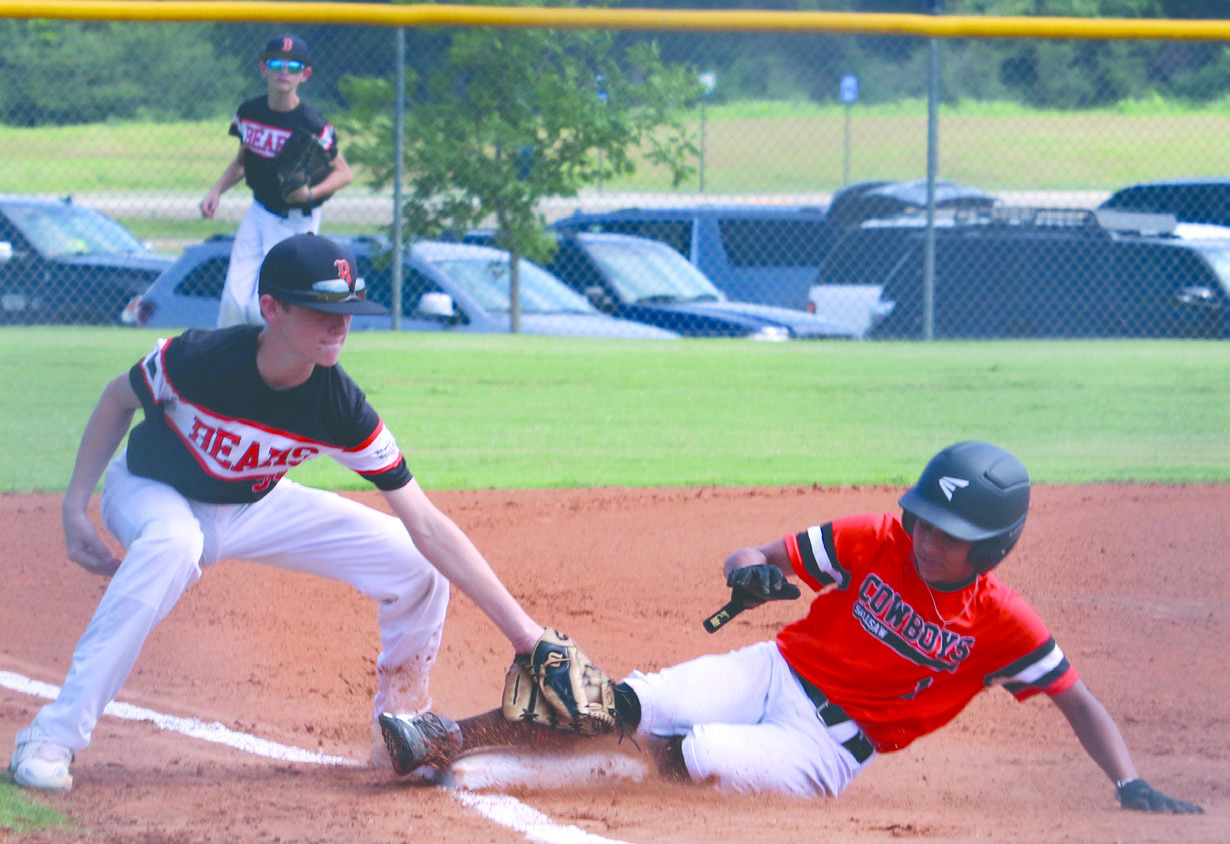 OK KIDS STATE TOURNAMENT
Sallisaw Cowboys still alive at state tournament
The Sallisaw Cowboys were still alive, at least as of Thursday night, in the 2023 OK Kids Age 12-and-Younger State Baseball Tournament.
The Cowboys staved off elimination twice on Wednesday, defeating the Cheyenne-Reydon Bears 7-5 and the Sitgler Reds 11-4.
The Cowboys faced elimination Thursday night as they met the Anadarko Warriors in the loser's-bracket semifinals. Sallisaw had to win that game as well as the loser's-bracket final against the loser of Thursday afternoon's winner's-bracket final between the Sallisaw Cardinals and the Okarche Warriors to make it to the championship series, which will begin at 1 this afternoon. The state title game will be at 5 this afternoon.
In the win over Cheyenne-Reydon, the Cowboys rallied from a 1-0 first-inning deficit with a five-run third inning, highlighted by an three-run triple by Boston Green and a Bears error for a 5-1 lead after three innings.
The Bears cut their deficit to 5-2 in the fourth inning as Caleb King scored on a Sallisaw error, but the Cowboys responded with a two-run fifth inning as Boston's two-run double upped Sallisaw's lead to 7-2.
The Bears, whose RBI fielder's choice by Weston Romberg put them up 1-0 in the first inning, tried to mount a lastinning comeback as Russell Szedeli's two-run single and a wild pitch cut their deficit to 7-5, but Sallisaw pitcher Calvin Kilpatrick got Eli Haley to hit into a game-ending groundout.
For the game, Green was 2-for-3 with a three-run triple, a two-run double and five runs batted in, while Tanner Plank doubled and scored once.
Kilpatrick got the completegame victory, striking out 11 batters in six innings.
In the victory over Stigler, the Cowboys jumped out to a 4-0 lead in the opening inning, thanks to an RBI single by Hudson Hicks, a bases-loaded walk to Kilpatrick, an RBI single by Kobe Johnson and a basesloaded walk by Brody Fields.
The Reds cut their deficit in half on a wild pitch and an RBI single by Hudson Davis in the third inning to cut Sallisaw's lead to 4-2.
The Cowboys put away the game with a five-run fourth inning, highlighted by a two-run double by Hicks, an RBI double by Green, an RBI single by Kilpatrick and an RBI double by Johnson, to make the score 10-2 in favor of the locals. Green's RBI fielder's choice upped Sallisaw's advantage to 11-2 in the fifth inning.
The Reds tried to mount a rally in their final at bats in the sixth inning as an RBI single by Hunter Apple and an RBI triple by Dayne Wicket cut their deficit to 11-4, but Plank, the Cowboys' starter, got the next batter to ground out to end the game.
For the game, Hicks went 3-for-3 with a double, three RBIs and two runs scored, Plank was 4-for-5 with two runs scored, Johnson was 2-for-2 with a double, two RBIs and a run scored, Jax Waters was 2-for-3 with three runs scored and Green hit an RBI double and scored twice.
Plank got the complete-game victory, fanning nine batters.