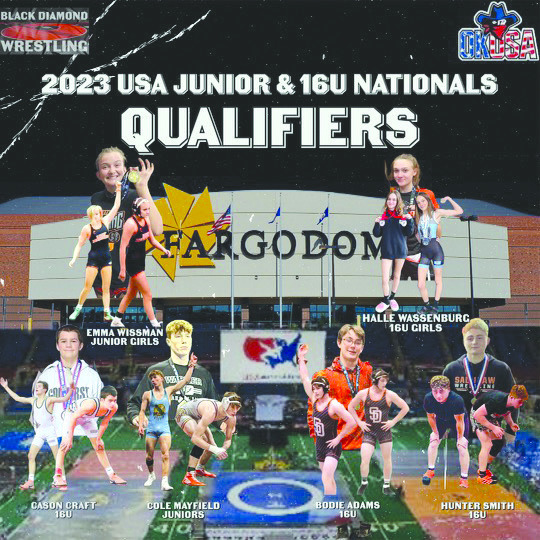 SALLISAW WRESTLING
Sallisaw wrestlers excited about big Fargo tournament
Just call them "The SSS" — "The Sallisaw Super Six."
Six Sallisaw wrestlers — four Black Diamonds, Cole Mayfield, Bodie Adams, Cason Craft and Hunter Smith, along with two Lady Black Diamonds, Halle Wassenburg and Emma Wissman — will be competing in the biggest tournament of their prep careers as they will be in the 2023 USA Nationals Junior/Age 16-and-Younger Tournament, which will begin Saturday and end July 23 in Fargo, N.D..
"I'm looking forward to it," said Mayfield, who will compete at 145 pounds in the junior portion of the freestyle tournament beginning on Monday. "I'm pretty excited. Right now, I'm just getting down to weight. It's a tough weight cut to get down to 145. I wrestled at 152 at regionals. I've never been there before, so I have high expectations. I've heard a lot good things about it."
"I'm just really excited to spend some time on the mat and gain some more experience," said Wassenburg, who will be wrestling at 94 pounds in the Age 16-and-Younger bracket and will begin the tournament on Saturday. "I'm looking forward to this."
Smith (182 pounds), Adams (170) and Craft (94) all will be in the Age 16-and-Younger Tournament brackets.
Wissman will be at 105 pounds in the junior portion of the freestyle event.
"She's going at 105 (pounds). She's really excited. She just committed to Simpson College (in Indianola, Iowa). She's excited to practice more freestyle, since that's what she'll be doing in college.
Sallisaw assistant coach Scott Mayfield said that all this started with the organization of The River Valley Freestyle Club.
"We started The River Valley Freestyle Club this year. This is the first year we've had a freestyle (wrestling) club in Sallisaw. It's the most boys and girls wrestlers in the history of Sallisaw wrestling — six — that we've taken to Fargo."
Both Wassenburg and Cole Mayfield are glad to have some teammates along to share the experience and to workout with during the tournament.
"It's awesome," she said. "Emma has been there since the start of wrestling. She's always been my partner and kept me going. I'm really excited to get to experience this with her."
"It's good for us," he said. "It's something to build our high school program. It's a good stepping stone to get our name on the map and make everyone want to come here and wrestle. It's going to be fun.
Craft and Adams not only will be doing freestyle competition, but Greco-Roman as well.
"There going to do the Greco-Roman style," Sallisaw's assistant coach said. "They'll stay there nine days. Cason is a returning All-American freestyle wrestler."
Both Cole Mayfield and Wassenburg have been doing everything possible to get prepped for the big tournament.
"I've done a lot of training and a lot of practicing," he said. "I've been training and lifting every single day, eating right and doing the right things."
"I've been eating right, trying to stay at the right weight, practicing and doing everything to get myself ready," she said.
All the wrestlers would like to bring home a championship, but there are some other goals they would like to achieve while competing.
"I just want to wrestle my hardest, do the best I can and be the best version of myself," Cole Mayfield said. "That's all it takes — the little things — to get me where I want to be."
"I just want to win one match," Wassenburg said. "As long as I go out there and try my hardest, I'll be happy with myself."
Assistant coach Scott Mayfield said having this many wrestlers qualify for this caliber of a tournament, it can only make them and the program better.
"It bodes well for the high school program," he said. "(Sallilsaw head) Coach (Mark) Smith, myself and (assistant) Coach (John) Sanders have been excited this summer to get work with these guys and girls. Like Cole was talking about, anytime you can have that many kids invested in the sport is going to help your high school program as well."
However, Sallisaw's assistant coach doesn't want "The Sallisaw Super Six" to forget one more key aspect of this tournament — getting noticed by college coaches.
"The important thing about this tournament is it gives our kids a great opportunity to wrestle at a high level in front of several different college coaches." he said. "If they want to go on and wrestle in college, this is the tournament where they will be able to see them. There are actually 7,000 entries at this tournament. This is the most that this tournament has ever had. Coach Smith and I were just super proud that we have six going. That's the most kids from one school in this area that's going. We're pretty excited about that. They will all be on the high school team next year."
Editor's Note: To follow "The Sallisaw Super Six" during the tournament, go online to www. trackwrestling.com.