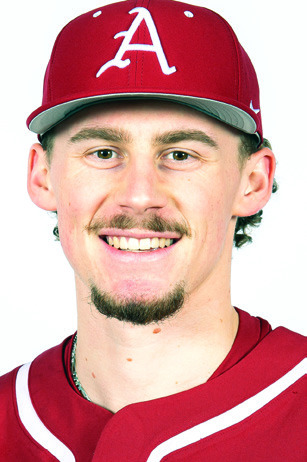 MAJOR LEAGUE BASEBALL
Wiggins selected by Cubs in MLB Draft
Former Roland Ranger and University of Arkansas pitcher Jaxon Wiggins was selected by the Chicago Cubs in the second round (68th overall) of the 2023 MLB Draft late Sunday night.
The hard-throwing right-hander, the Hogs' lone selection on Day 1 of the draft, is the 253rd overall draft selection in program history. Wiggins is the 17th Arkansas pitcher drafted since 2019 as well as the 13th taken in the first 10 rounds.
Wiggins was expected to headline the Razorbacks' starting rotation before missing the entirety of the 2023 season after suffering a torn ulnar collateral ligament that required Tommy John surgery. In his Arkansas career, the Roland native appeared in 34 games with 19 starts and recorded a 9-4 record with a 6.17 earned run average and 110 strikeouts in 89 innings.
As a sophomore in 2022, Wiggins went 6-3 with a 6.55 ERA and 82 Ks in 66 innings across 17 appearances with 15 starts. He made 17 appearances, including four starts, on the mound as a true freshman in 2021 and posted a 3-1 record with a 5.09 ERA, 28 strikeouts and four saves in 23 innings pitched.
Wiggins is the second Arkansas pitcher in as many drafts to be selected in the second round. Fellow right-hander Peyton Pallette was picked up by the Chicago White Sox in the second round (62nd overall) of last year's MLB Draft.
Arkansas pitcher Hunter Hollan as well as outfielders Tavian Josenberger, Jace Bohrofen and Jared Wegner heard their names called on Day 2 of the 2023 MLB Draft on Monday.
Hollan was drafted by the Cincinnati Reds in the third round (No. 74 overall) before Josenberger was picked up by the Baltimore Orioles later in the same round (No. 100 overall). Bohrofen was selected by the Toronto Blue Jays in the sixth round (No. 184 overall), and Wegner was scooped up by the New York Yankees in the ninth round (No. 282 overall).