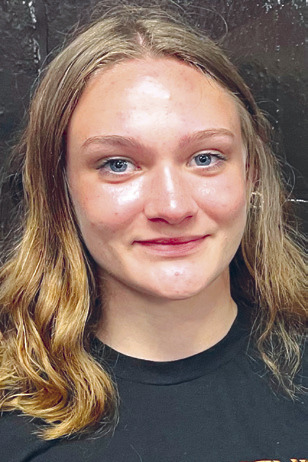 Sallisaw wrestlers earn wins at Fargo tournament
FARGO, N.D. — Sallisaw Lady Black Diamond wrester Halle Wassenburg's main goal at the 2023 USA Nationals Junior/Age 16-and-Younger Tournament was to win at least one match.
Mission accomplished.
Wassenburg, a 94-pound River Valley Freestyle Club representative, won a match during this past weekend's age 16-and-younger women's division — beating Illinois' Kayla Hassell 2-0 in her first consolation match after losing her opening-round match 10-0 to Arizona's Khyla Lipumano. However, Wassenburg saw her stay in the tournament end with a 8-2 loss to Oregon's Chaya Palomo.
Fellow Lady Black Diamond wrestler and future Simpson College signee Emma Wissman, wresting at 105 pounds in the junior women's bracket, went 2-2.
After losing 17-6 to Florida's Kealonie Vega, she bounced back with two consolation side victories — 7-1 over Idaho's Danielle Holt and 8-2 over Oregon's Eliyahna Asher. However, Wissman was eliminated by Missouri's Madison Haney by a score of 4-0.
The four Black Diamond male wrestlers didn't see action until Monday.
Three of them — Hunter Smith at 182 pounds, Bodie Adams at 170 and Cason Craft at 94 — all went undefeated on opening day in the age 16-and-younger division.
Smith edged Iowa's Kamdyn Kraklio 11-10, then defeated Connecticut's Cole Grenier 8-6 to advance to the third round on the championship side. He was slated to meet Wisconsin's Max Mathias today.
Adams blanked his opening-round opponent, Leven Jones from Kansas, 11-0, then got past Iowa's Gatlin Rogers 16-12. He was scheduled to face California's Brady Wight in the third round on the championship side today.
Craft only had one match, but slipped past Missouri's Caden Bradfield 7-6 to set up his scheduled second-round match against Ohio's Mason Bauer for today.
In the junior division, 145-pounder Cole Mayfield went 2-1 on opening day. After getting an opening-round bye, Mayfield blanked Michael Harrington of Massachusetts 10-0 in the second round, but lost his third-round match 10-0 to New Jersey's Cross Wasilewski. The Black Diamond matman bounced back with a 12-2 opening-round consolation victory over Nebraska's Tristan Burbach to put Mayfield into today's consolation second-round match against North Carolina's Elijah Murray.
The freestyle portion of the tournament for the gentlemen ended today, but Craft and Adams also will compete in the Greco-Roman style wrestling portion of the tournament, which will begin Thursday and end Sunday.