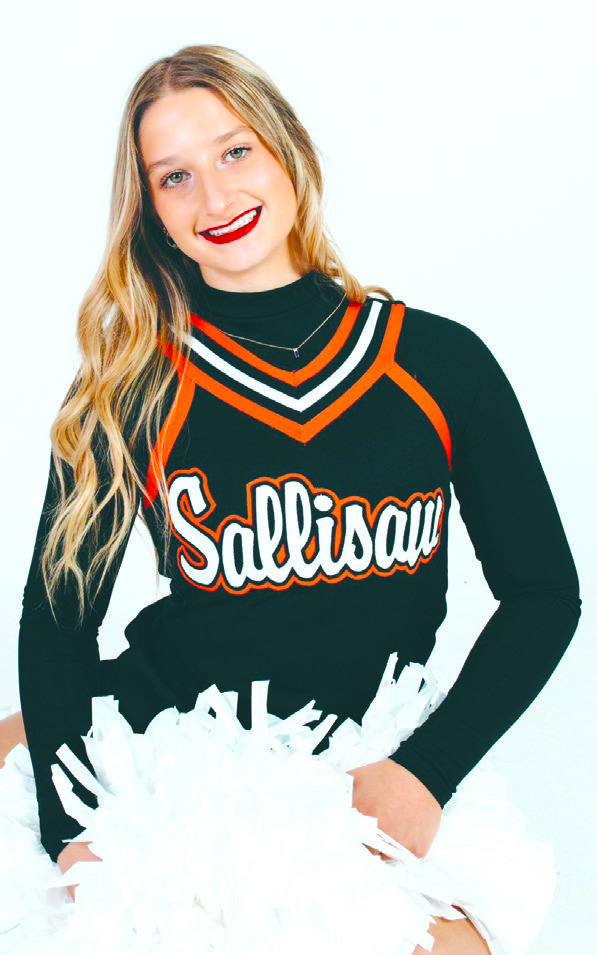 SALLISAW CHEERLEADING
Sallisaw cheerleader looking forward to cheering at All-State football game
There will be one more high school event for Sallisaw High School cheerleader Michaela Taylor to get to cheer at before going to college. That event will happen next Friday night at the 2023 Oklahoma Coaches Association All-State Football Game, which will kick off at 7 p.m. at Oklahoma Baptist University's Crain Family Stadium at the Hurt Complex in Shawnee.
"It doesn't really feel real," Taylor said. "It seems like it's come up really quickly. I knew that it was going to be nearly into August, so I thought it was going to be a long way away. Now it's here, and it feels like summer is already over. It's really exciting to get to do it. I'm looking forward to it. It's going to be very exciting and definitely a new venture."
Taylor had All-State cheerleading tryouts in November, just thinking no more than just having such an experience to always cherish. However, when she found out in December she made the East All-State cheerleading team, Taylor was overwhelmed with emotions.
"I cried actually," she said. "It was tears of excitement. I was shocked that I actually made it. I went into it knowing there was this really high possibility of not making the team. I was just there to try my best. I was thankful for the opportunity to even get that far and to even have that experience to tryout. I really didn't expect to make the team. When I saw my name pop up on the roster, and my coach (Robbi Martin) sent me a text and mentioned to me (about making the squad), it was one of those feelings — I became overwhelmed and started crying. It was really tears of excitement and joy. I was really shocked."
Taylor only will be cheering at next Friday night's All-State Football Game, so she doesn't need to report for her All-State duties until Thursday.
However, next Friday night won't be the only time the Sallisaw High School Class of 2023 graduate will get to cheer at OBU, since she signed a cheerleading letter of intent with the Shawnee four-year college.
"I've already started cheer practice with them," Taylor said. "I'll have practice with them that same week. I'll be up there Wednesday practicing with them, getting ready for a camp right after All-State (Week)."
Because she know she has a college cheering portion of her life to come, there are some mixed feelings about performing as a high school cheerleader for the last time next Friday night.
"Yes and no — yes because I know for sure that's the end of my high school career, and this (next Friday night's All-State Football Game) is kind of a high school thing," she said. "I'm also excited to embark on this new journey in college and become a college cheerleader. It's not like my whole cheer career is coming to an end, so it's not too bad."
Taylor believes once next Friday night's big game comes to a close, she'll need to get mentally prepared for college life.
"I've already been practicing with the (OBU) team," the Sallisaw cheerleader said. "It's just the whole moving away from home and actually being in college full time. It's really a mental game, I guess — mentally preparing for all that."
Editor's Note: Look for a preview story next week about the three local football players Sallisaw cheerleader Michaela Taylor will be cheering — Vian cornerback DeSean Mays, Gore defensive lineman Gabe Dozier and Gore offensive lineman Garrett Douthit.