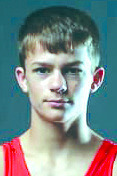 SALLISAW WRESTLING
Sallisaw wrestler finishes in tie for 5th at Fargo tournament
FARGO, N.D. — Sallisaw wrestler Cason Craft finished in a tie for fifth place in the 94-pound division of the 2023 USA Nationals Junior/Age 16-and-Younger Tournament.
Craft reached the championship quarterfinals of the age 16-and-younger division with a 10-2 win over Ohio's Mason Bauer and a 10-0 victory over Wisconsin's Camden Rugg. Then, Craft doubled up Iowa's Nico DeSalvo 6-3 to reach the semifinals.
However, in the semifinals, Craft lost 6-4 to Minnesota's Turner Ross to get bumped into the consolation side, where Craft fell 4-3 to Iowa's Hayden Schwab to finish in a tie for fifth place.
Three other Black Diamonds competed in the event — two of them, like Craft, in the age 16-and-younger division, Hunter Smith (182 pounds) and Bodie Adams (170).
Adams won his third-round match 16-6 over California's Brady Wight, but then lost his next two matches — 12-1 to New Jersey's Kaleb Jackson in the championship bracket's fourth round and 16-11 to Pennsylvania's Mason Gourley in the consolation bracket.
Smith lost both of his final two matches of the tournament, losing 10-0 to Wisconsin's Max Mathias in the third round, then fell 10-0 to New York's Alex Belisha in the consolation side.
In the junior division, 145-pounder Cole Mayfield split hit final two matches, defeating North Carolina's Elijah Murray 14-8 in the second round of consolation, but then losing 10-0 to South Dakota's Ayson Rice in the third round of consolation competition.
Craft and Adams will finish out this week and weekend in the Greco-Roman portion of the tournament.