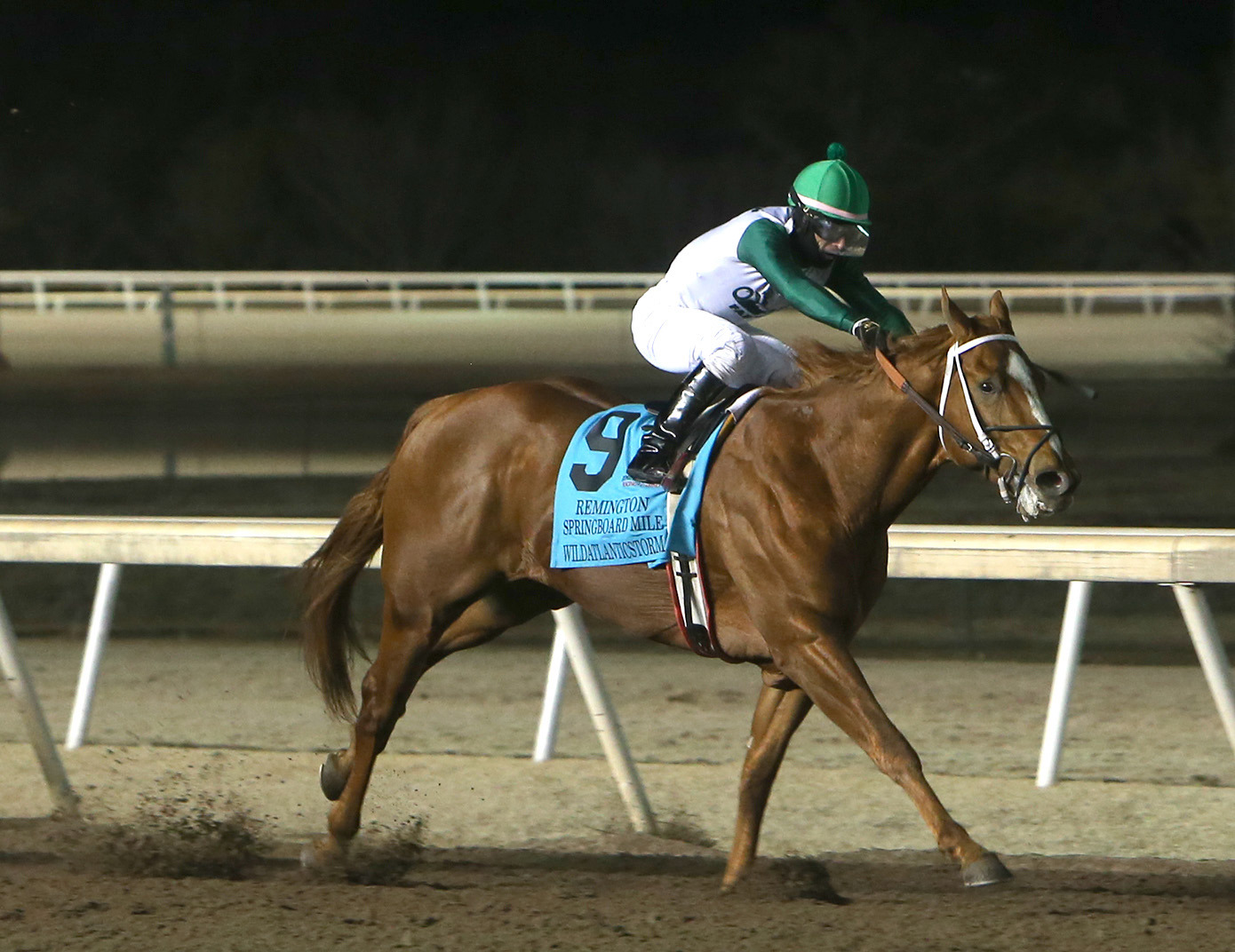 REMINGTON PARK
Remington Park opens track; Springboard Mile winner Wildatlanticstorm first over the surface
OKLAHOMA CITY — Wildatlanticstorm, the 2022 Springboard Mile winner and the seasonal Horse of the Meeting, was the first to move over the main track at Remington Park Tuesday morning. He appeared on the track at 6 a.m. sharp, under clear skies with temperatures in the low 70s.
The track opened for light training with the beginning of the thoroughbred season 3.5 weeks away.
Trainer Ray Ashford was pleased with how things went for Wildatlanticstorm. The large chestnut, who crossed the scales at 1,238 pounds on Springboard night, continues his comeback efforts.
"He got across the track pretty good," Ashford noted. "He's doing fantastic."
A resident of Moore, Ashford is optimistic for Wildatlanticstorm, owned by Jim Jorgensen of Thornton, Iowa. The 3-year-old Iowa-bred colt by Stormy Atlantic from the Big Brown mare Imsortaspecial is returning to action after a minor setback occurred in January.
"We were all pretty excited after the Springboard," Ashford said. "The calls were coming in from tracks inviting Wildatlanticstorm to compete in their 3-yearold stakes races. We were kicking our options around and gave him a half-mile breeze at Sam Houston."
That Jan. 6 move went in 51 seconds over a fast track, continuing to give confidence to the Wildatlanticstorm team.
"Then the next day, he seemed to be a tick off," Ashford said. "So, we X-rayed him and found the bruise. That started the slow process. It takes a long time to heal."
On July 15, more than six months since the half-mile work in January, Wildatlanticstorm was ready to begin a faster training regimen. He was given a three-furlong breeze at Lone Star Park in Grand Prairie, Texas, handling that in 40 seconds.
Ashford is hopeful his two-time stakes winner at Remington Park (Clever Trevor and Springboard) will have another breezing work very soon. As for racing options, the Grade 3 Oklahoma Derby on Sept. 24 is obviously on the schedule since Wildatlanticstorm earned a free pass into the event with his Springboard score. However, that might be a bit ambitious.
"To be honest with you, that is coming up pretty fast," Ashford said. "We will look at it. Since he is Iowa-bred, possibly the $100,000 Iowa Breeders' Derby at Prairie Meadows on Sept. 30. That will probably be a much easier spot than the Oklahoma Derby."
Ashford is looking forward to the Remington Park season, with 38 horses on the grounds. In addition to the horses in his care, he hopes he will have another training Ashford competing with him in Oklahoma City soon.
"Tristan (21), earned his training license and is doing really well up in Iowa at Prairie Meadows," Ashford said. "He and his brother Logan, helped bring up Wildatlanticstorm last year. The horses they have might be able to make it in here soon."
The Remington Park surface opened for jogging and galloping with nearly 500 horses taking advantage of the opening Tuesday to leave their barns for exercise. Official workouts won't begin until next week over a surface that received a summer renovation. The project was delayed numerous times by weather in a summer that is currently fourth all-time for precipitation in Oklahoma City.
The 67-date Remington Park thoroughbred season begins Aug. 18 and continues through Springboard Mile Night on Dec. 15.