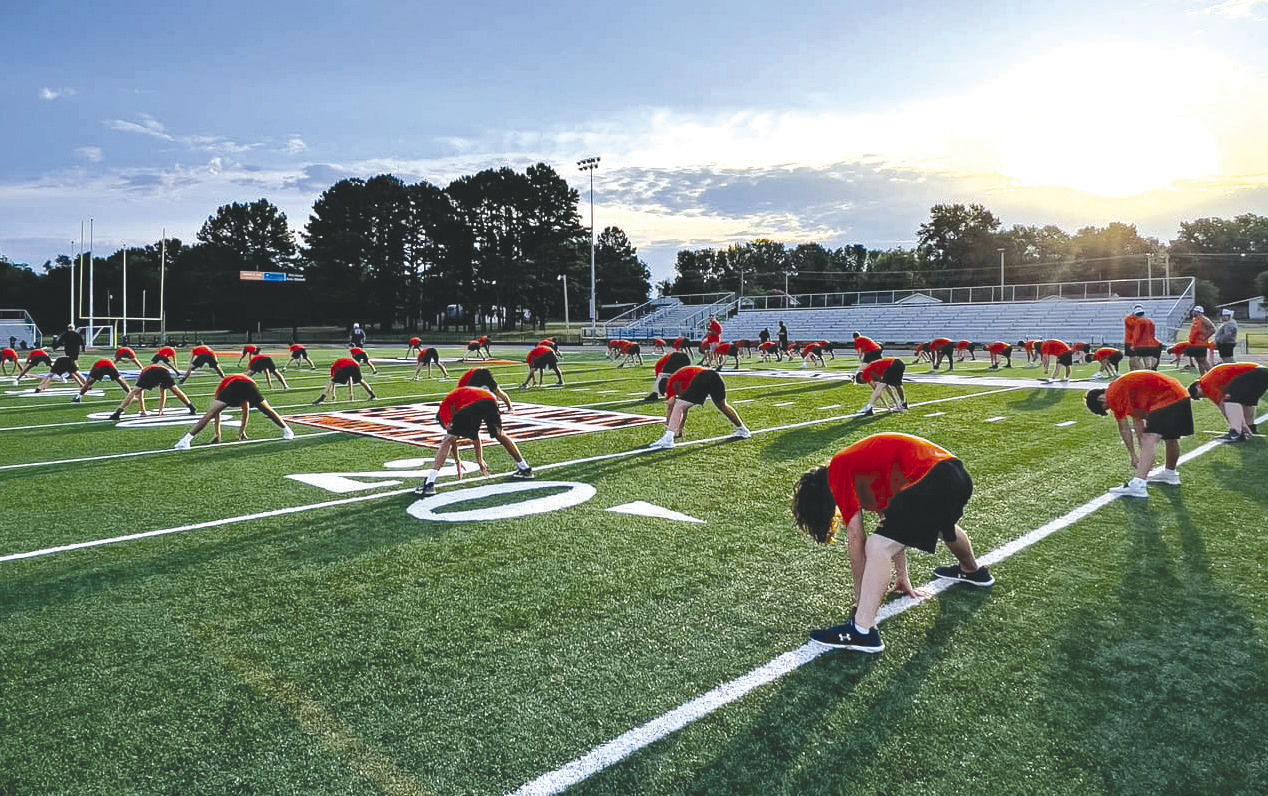 HIGH SCHOOL FOOTBALL
Local football coaches have different things they wish to accomplish
With the start of preseason football practice for the 2023 season beginning Monday, the local coaches have different objectives and goals they want to achieve during the first week.
"We just want to get back to work, installing our offense and defense and just getting the kids familiarized with those aspects of the game, and get acclimated to the heat," new Sallisaw coach Brandon Tyler said. "We're going to try to get in some pre-conditioning. We've been doing a lot of running to try to get back into shape, and get ready for that first ball game. We'll have a scrimmage Aug. 18 at Grove. We'll try to get prepared to go there, then get back and get after Stigler on zero week."
"The simple answer to that is to get them acclimated to the heat," Muldrow coach Logan Coatney said. "We had a really good spring ball sessions. Our camps were good. Our 7-on-7 passing league was good for us. A lot of what we want to install and what we want to have come zero week is already in place. There's still some things to work on, but the vast majority of who we are as a team has already been installed. This first week is really about cleaning up some of the messes we saw in our camp and in our 7-on-7 this summer, then it's getting these kids acclimated to the heat. We really have a great group of kids. We had 93 percent of our team here every day (during summer workouts), so they're pretty much acclimated to the heat. But again, it's a lot different when you're getting ready to put pads on and endure a two-hour practice versus a 45-minute conditioning session."
"Our first couple of days, Monday and Tuesday for sure, we want to run our boys through some basic stuff again — not necessarily pertaining to our offense or defense — but things like the fundamentals of tackling, blocking, catching the ball, holding on to the football — retouching all that stuff," Roland coach Austin Cantrell said. "Then, (we'll) turn around and do our offense and defense plays, our pass protection and maybe a passing play or two — the most we can do without pads on. Really the first day for sure will be just the fundamental stuff and getting the feel back for it."
"The first thing is we have to get acclimated to the heat," Central coach Jeremy Thompson said. "We have to start making sure we're getting in shape. We're going to work on our base offense and defense. We want to make sure we're fundamentally sound. Those are the keys at the beginning of the year. We want to get ready for our scrimmages. We want to make sure we're ready when we go into scrimmage No. 1 (vs. Keys (Park Hill) at 6 p.m. Aug. 18) and scrimmage No. 2 (6 p.m. Aug. 25 vs. Morris). Then, it's game time. There's a lot to get in during these next two weeks."
"We want to come out with a good intensity, set the tempo and set the stage for the season right off the bat," Vian coach Gary Willis said. "We still have a lot of young players still moving around a little bit. We have positions we're unsure of, so we're looking for competition for those spots. We've got some guys who can play different spots, so we'll see if someone steps up — or if it's a spot where we'll rotate players."
"Our main goal is to get the right personnel where we want them to where we're going to have the best success possible," Gore coach Brandon Ellis said. "We had a really good spring, and we think we have it figured out. This week coming up, we're really going to start getting our 1s and 2s depth chart-wise figured out and what's going to fit us best to have success."
Ellis said that last year's Class A state title game run is a big factor to help the Pirates try to keep the success going — hopefully to a gold ball come December.
"It was a great group of kids," Ellis said. "They were successful. They did a great job. It's kind of exciting. We're returning basically one returning slated starter from last year's team. Now, it's time for these guys. They're eager. It's fallen upon them now that they need to step up. The tradition is here. Gore has always had a strong tradition. We want to continue that."
"This first week, we're just going to focus getting their bodies back into shape," Gans coach Brian Morton said. "I know these boys don't do a lot during the summer. We have quite a few boys that work, and work outside, but I also know some work indoors under air conditioning. So, we'll use this week to get some heat acclimation going, some conditioning and pick up where we left off last season in terms of our Xs and Os."
"We still have a couple of spots we need to nail down with graduation, so we might as well get after it," Webbers Falls coach Trent Holt said. "We'll be thin, depth wise — it's small-school football. It's what we face all the time. We need to get those new kids familiar with what we're doing. They're familiar with what we're doing, but we still don't know who we're going to start in a couple of spots. We want to get them some experience. We're going to have to have a couple of freshmen step up. They're just going to need to get reps. We think we have a shot at being pretty good."