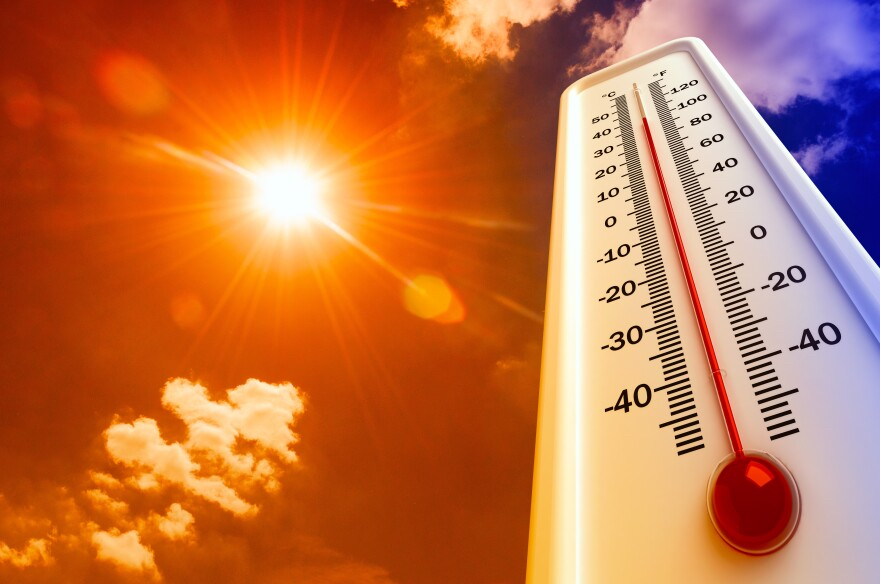 HIGH SCHOOL FOOTBALL
Players, coaches all aware of the heat as football practice begins Monday
One, if not the top thing, that high school football players and coaches have to deal with more than anything is the heat — especially after this two-week record heat wave that everyone has been experiencing.
So, the local high school football coaches have to do everything within reason — and even beyond — to make sure their players do not suffer heat-related injuries during preseason practices, which will begin Monday.
"We've got good trainers," new Sallisaw coach Brandon Tyler said. "We have some good young high school girls out there who understand what we've got to have. We'll have wet, cold towels and water. We'll give them water breaks, especially so they can get a lot of fluids in their bodies to combat the heat and get acclimated to it."
Tyler said that all the new summer pride workouts, and more, have helped the players better get acclimated to the heat every year when preseason practices begin in August.
"We can do so much in the summer now," Tyler said. "Our kids have been running quite a bit. It's not like the old days when I was playing. You had the two-a-days just to get back into shape. We can do so much with them in the spring and summer now, and that helps out on the conditioning part. We're so far ahead now than we were when I played. It just makes it a lot easier on us going into the fall camp."
"Heat is always an issue," Muldrow coach Logan Coatney said. "It's definitely here in the location we're at. The biggest part of the heat is hydration. We've been stressing that to these kids since spring. We need to make sure these kids are as hydrated as possible. That's why we've pushed out conditioning and practice to later in the evening, to try to let the heat come down a little bit. We'll check our wet-bulb (thermometer) to make sure the heat index is below where we need it to be at. The OSSAA (Oklahoma Secondary School Activity Association) put the guidelines on us to not go in full pads until Friday (Aug. 11). Getting them acclimated to the heat and be able to do some conditioning in helmets only those first four days will be vital in getting the kids ready to deal with the heat."
"We have a wet-bulb (thermometer) on site," Roland coach Austin Cantrell said. "We're keeping up with that. We do big carwash-type sponges and just drain that thing on them. When it's really hot and get close to that 100-degree mark, we like to hit it like for 20 minutes (of practice), then hit a water break and get right back after it. When it gets to a 110 heat index, we're not even allowed to practice. We keep a close eye on it. We keep stuff to cool the kids off, and have constant water breaks. It's looking like the weather isn't going to be that bad on Monday, so we may not have to get as acclimated to the heat. At least we'll be getting out there and sweating real good."
"We're going in the evenings," Central coach Jeremy Thompson said. "It will be hot at 6 p.m., but we've planned our schedule to be in the weight room before we take the field. We'll go early and late to try to stay out of that mid afternoon as much as we can. We'll protect the guys as best we can. We'll have water at every station. We'll keep an eye out for them. Anytime that heat gets above 100 (degrees), it's brutal — but we're going to make sure we're able to get things done at the same time."
"We give them frequent breaks and all the water they want," Vian coach Gary Willis said. "We'll watch that wet-bulb (thermometer) temperature and the heat index. Obviously, if it gets ridiculous (hot), we're not going to take a chance on it. We'll back off and come back at another time. We keep a kiddie pool in the horse troff out there if anybody gets real hot. We encourage the kids to get outside in it other than when they're with us — and not just lay under the air conditioner. Hopefully, they've been doing some of that."
"It's unusually hot," Gore coach Brandon Ellis said. "It's going to continue to get that way. We just have to adapt. We have to be careful. We have to be a lot smarter on the things we do. We can't do stuff we were doing 10 years ago. It's just the nature of the beast. We've had a really good summer as far as being out in the heat. We're getting our guys adapted to it. The philosophy has changed where you get quality work in a shorter period of time. That's what we're trying to do. As far as constantly being hydrated, being in physical shape and getting the kids adapted to that, it's going to be very important."
"We're not looking forward to the heat," Gans coach Brian Morton said. "We'll be bringing them right out in the heat of the day, but I'll have to definitely limit what we are doing. We keep out water breaks scheduled. It doesn't matter what we got going on — we've got our water breaks scheduled throughout. We make the boys take in some fluids. We have a shade tree. That's where we take our breaks. I'm going to have one of those great big utility or shop fans set up, so as they're getting drinks and sitting in the shade we'll have that fan going just to cool them off. We can't take chances in this kind of heat."
"I wish it wasn't so hot," Webbers Falls coach Trent Holt said. "Looking at the forecast, I think it's going to be all right. We're kind of old school — we just give them a lot of water, that's the main thing. We'll give them a lot of breaks. We'll try to set up a tent or two so we can get out of the sun. We'll keep an eye on them to make sure they don't get overheated. You're going to have to deal with it. We can not not be in (the heat). When it gets to that first game (7 p.m. Aug. 25 against Tulsa Regent Prep), it's going to be hot, so we're going to have to be used to it (hot temperatures/heat)."