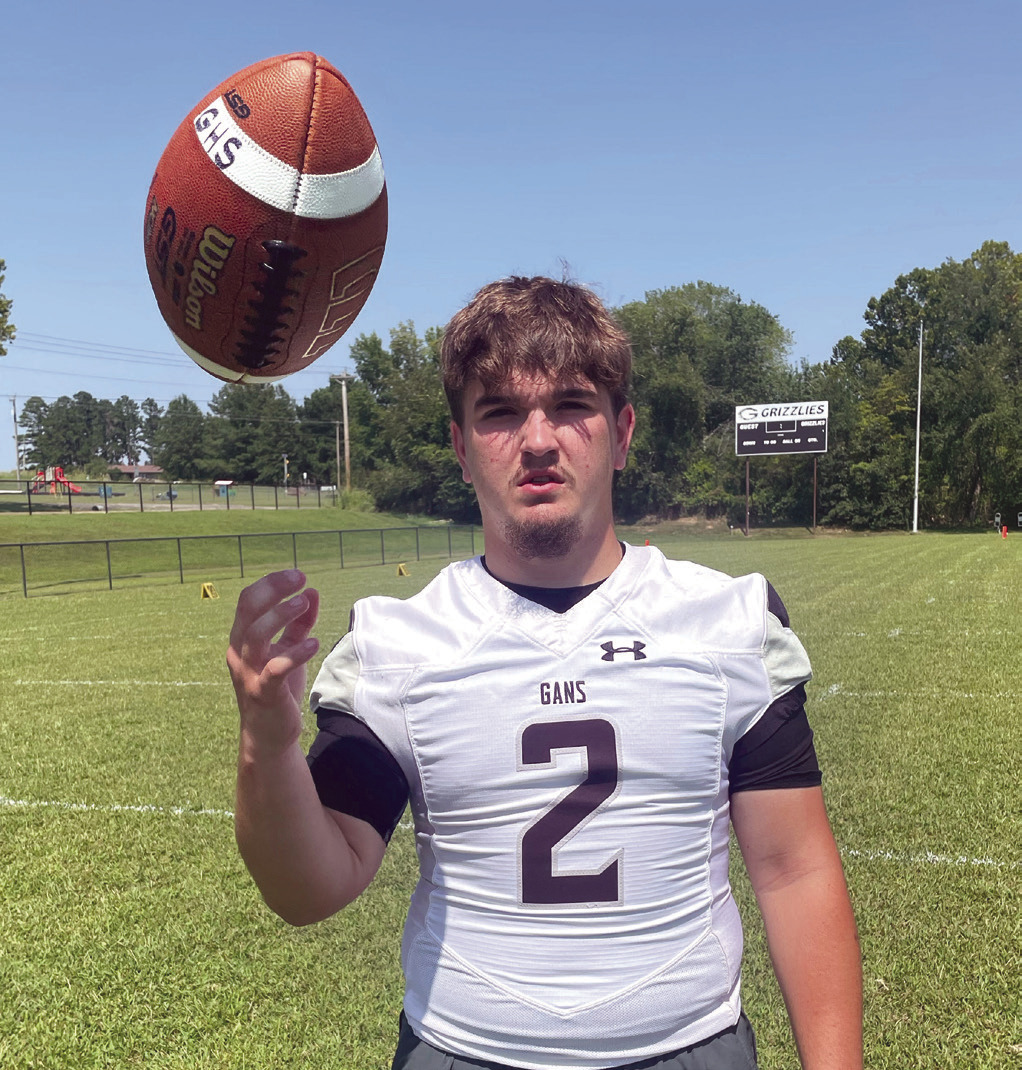 B: Sports
August 24, 2023
GANS FOOTBALL
Grizzlies' QB glad to be starting season on field, not sidelines
A year ago, then junior Gans quarterback Hunter Walters was being a spectator on his team's sidelines. He was out basically the first half of the 2022 regular season, in which the Grizzlies were 0-5.
Walters suffered a broken bone in his wrist in the lone Gans preseason scrimmage, but the injury was not as severe as perhaps initially thought. However, the now senior Gans QB said the time out of action was hard on him.
"It was frustrating," Walters said. It was hard to come back and get in shape. Luckily, it didn't get dislocated, so I didn't have to get surgery for it — but I had to sit out six weeks."
However, not all was lost being on the sidelines as a spectator.
"I felt like a coach, a little bit," Walters said. "I was just helping the guys, making sure they were doing the right thing."
Then, Walters finished his junior campaign playing the final six games, going 2-4 — which included a 78-20 Class B opening-round playoff loss against the Dewar Dragons.
Just getting back on the field was special.
"I just enjoyed just being out on the field and taking charge of every moment I could to do everything possible," Walters said.
Now, Walters is getting to do something he did two years ago — start in the Grizzlies' season opener at 7 tonight on the road against Oaks, which defeated Gans 46-0 on Aug. 26, 2022, at Grizzly Field. He is just glad for the opportunity.
"Being back from that injury, it helps a lot knowing that I've got guys willing to back me up," Walters said. "I feel like we'll do really good. I'm ready for it, just being back out there and everything for one more year."
The Grizzlies would like to start 2023 with a win tonight.
"I just want to go out there and do better," Walters said. "Going from last year (2-9 record) and not doing so good, opening up the year with a win will give us a lot more confidence."
• • •
To Get There — Take Oklahoma State Highway 141 east to U.S. 64. Take U.S. 64 west to Sallisaw. Take U.S. 59 north to Kansas (Little Kansas). Take U.S. 412 west to U.S. Alternate 412. Take U.S. Alternate 412 west to Oklahoma State Highway 412A. Take Highway 412A south to Oaks.