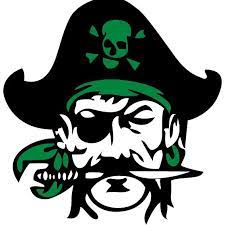 B: Sports
August 24, 2023
GORE FOOTBALL
Pirates welcome Wilburton Diggers for tonight's season opener
The Gore Pirates will look to begin their march back to the Class A state championship when they open their season against the Wilburton Diggers at 8 tonight at home. The game originally was slated to kick off at 7 p.m., but the starting time was pushed back due to the heat.
Gore coach Brandon Ellis, beginning his second stint coaching the Pirates, said the team is ready to make the Diggers walk the plank.
"We're tired of beating up on each other," he said. "Everybody is excited. We're looking forward to it — just the chance to get to line up and hit somebody else."
There's one key offensive player the Pirates will need to keep in check tonight, and the Diggers like to swarm to the ball defensively.
"They have a really good tailback," Ellis said. "They kind of do some stuff to put you in a bad situation defensively. They're quick. They fly to the ball (on defense)."
The Pirates, who stayed undefeated until losing 32-28 to Fairview in last year's Class A state title game, will need to play a sound game in all facets to help them have the best chance to win tonight.
"We're going to have to be really sound offensively and defensively at what we do," Ellis said. "One of the big things is we have to win the special teams battle, too. It's a big importance that we take a lot of pride in. Anytime you can flip field position, it's huge. That usually puts the offense and defense in a really good situation."