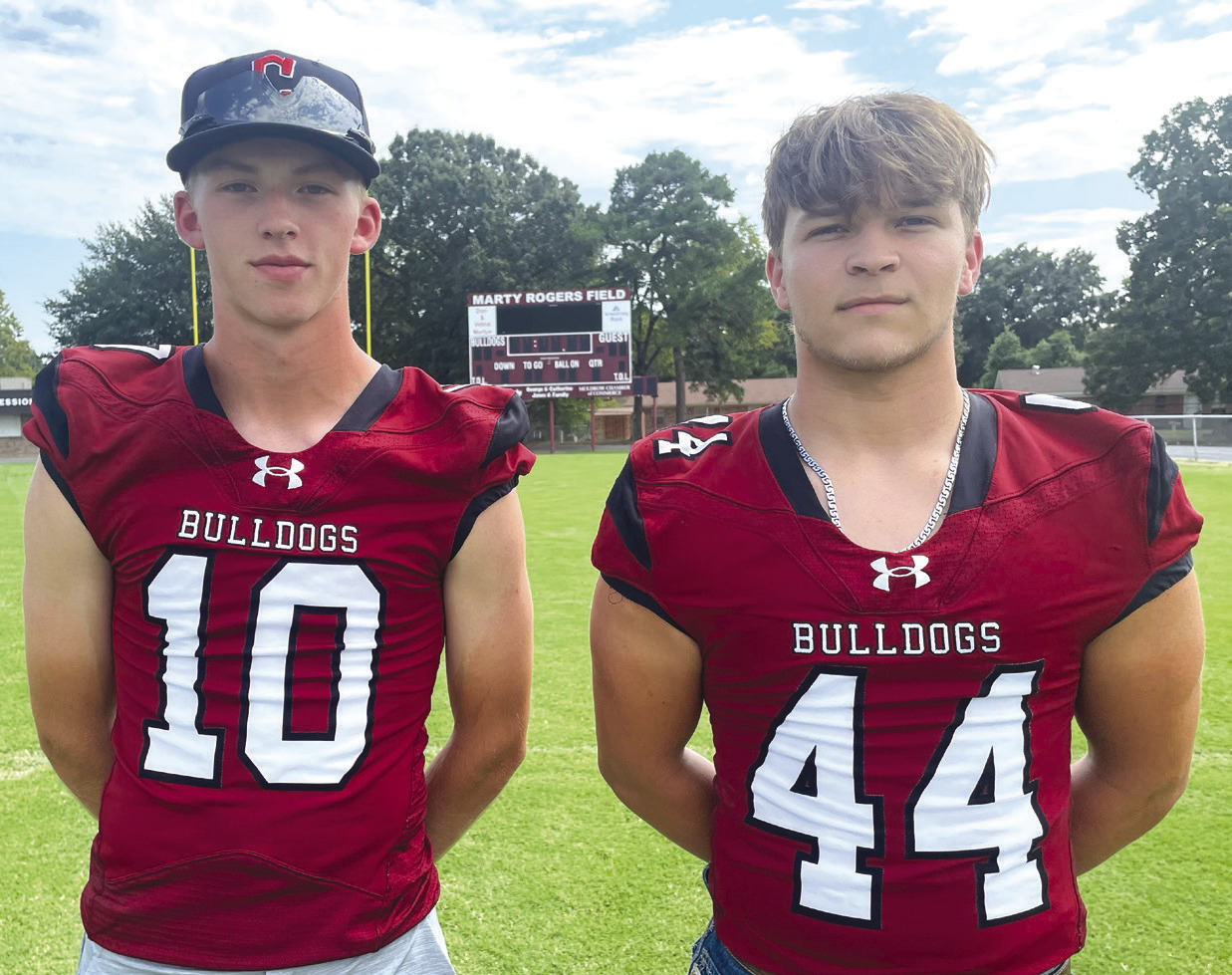 B: Sports
September 7, 2023
MULDROW FOOTBALL
Muldrow senior duo wants to keep winning streak over rival Sallisaw intact
The Muldrow Bulldogs will look to make it three straight football wins over the rival Sallisaw Black Diamonds tonight when the two Sequoyah County teams hook up at 7 p.m. at Muldrow's Marty Rogers Field.
"To a lot of us, Sallisaw is that big rival for us," Muldrow senior quarterback Reid Sutton said. "They're good. We're going to come out ready to go. We know they're going to be ready to go."
"It would mean a lot to us," Muldrow senior running back Will Stratmann said. "As a team, to beat them three years in a row, and three of the four years we seniors have been in high school. (Beating Sallisaw) would mean more than anything to me. Obviously, Roland was a big loss to us because that's a really big rivalry game, but after losing to them, my big look was Sallisaw. Sallisaw is going to be the biggest game for me to this point."
The 'Dogs won their first game of 2023 last Friday night, rallying down from 14-0 at the half to win going away by the score of 36-14 over Sequoyah-Tahlequah. The sluggish start had them wondering was it going to be another disappointing night as the season opener was Aug. 24 at Roland, which won the 2023 version of "The Battle of 64" by a score of 21-14.
"I was a little concerned, but I knew we'd come out stronger in the second half," Sutton said. "Everybody got pretty confident. We got fired up to start the second half. We just came out ready to go (in the second half). That was a game we needed to win."
The Bulldogs outscored the Indians 36-0 in the second half, which was sparked by the players getting into the right mindset.
"For the second half for us, what really sparked us was our mentality," Stratmann said. "When we came out in the first half, we were slow getting started. We went in there at halftime, and caught us a little break. In the second half, we came out fired up."
Both Muldrow seniors have plans after their days of being a Bulldog come to a close in May.
"I'm going to go play college baseball somewhere," Sutton said. "Right now, it's football season, and that's all I'm really worried about."
"I'm definitely looking more into the gridiron, but as far as career goes, I'll probably apply to OSUIT (Oklahoma State University Institute of Technology)," Stratmann said. "I've been going to Indian Capital (Vo-Tech Center) for quite a while now, but I want to extend that further and go to Okmulgee (home of OSUIT) and extend that career."