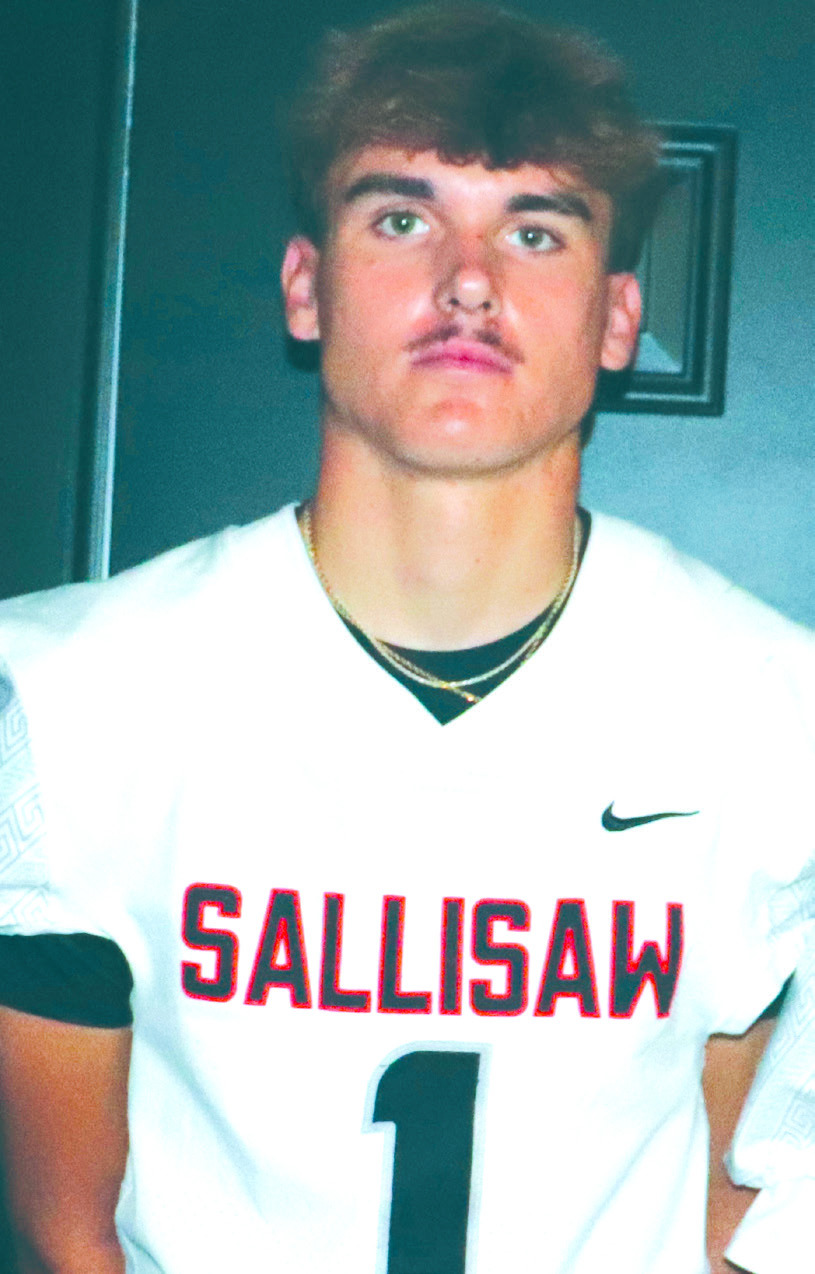 B: Sports
September 21, 2023
SALLISAW FOOTBALL
Sallisaw senior receiver/defensive back says team's mentality is sky high
Right now, things couldn't be better for the Sallisaw Black Diamonds football team. The Black Diamonds have done away with a losing streak and have started a winning streak — albeit a modest two-game one going into tonight's District 4A-4 opener at Ada. It matches the Black Diamonds' last twogame winning streak, which happened during the 2020 season in which they went 5-5 and had a pair of two-game winning streaks – the last one coming Nov. 6 with a 48-6 rout of Stilwell in the regular-season finale and a 31-7 rout of Oologah in the playoff opener, with both games happening at Perry F. Lattimore Stadium.
"It definitely has not been said around here for a while," Sallisaw senior receiver/defensive back Max Stump said. "The last two years have been rough. Then, coach (Brandon) Tyler came in here. Everybody is buying into what he's doing. It's definitely been fun. It's way better than what it's been."
The second straight win came last Friday night at Perry F. Lattimore Stadium when the Black Diamonds knocked off the Tahlequah Tigers 37-23. It was the first home victory since Sept. 24, 2021, when Sallisaw opened District 4A-4 play with a 34-12 win over Tulsa McLain — which was the last win for the program until the Black Diamonds blanked rival Muldrow 45-0 two weeks ago.
"I think we counted 4,000 people in the stands and around the football field on Friday night," Stump said. "The energy was really crazy. To come out with a win was huge. You couldn't have asked for much more on a Friday night."
To say the Black Diamonds are sky high right now is an understatement.
"The energy in the locker room and practice from last year to this year has changed drastically," Stump said.
Now, the Black Diamonds will begin District 4A-4 play for the 2023 season tonight when they visit the Ada Cougars at East Central University's Norris Field. If the Black Diamonds win tonight, it will be their first district win since that 2021 home district-opening win over Tulsa McLain.
"We definitely want to go down there and win," Stump said. "To go down there to Ada and come out with a win for the first district game would be a huge thing for Sallisaw."
Not only would a win tonight be the first District 4A-4 win for the Black Diamonds in two years, it also would increase the current winning streak to three games — which would be the first since the Black Diamonds went on a seven-game winning streak to end the regular season in 2019 before losing their lone playoff game 53-33 to Weatherford.
"We want to keep stacking wins," Stump said. "We got a kind of a thing where we break it up into three parts. The first three games were little trial test games. The next seven games (in District 4A-4 play) are definitely going to be a grind for sure. Then, you have the playoffs obviously. We want to keep pushing forward."