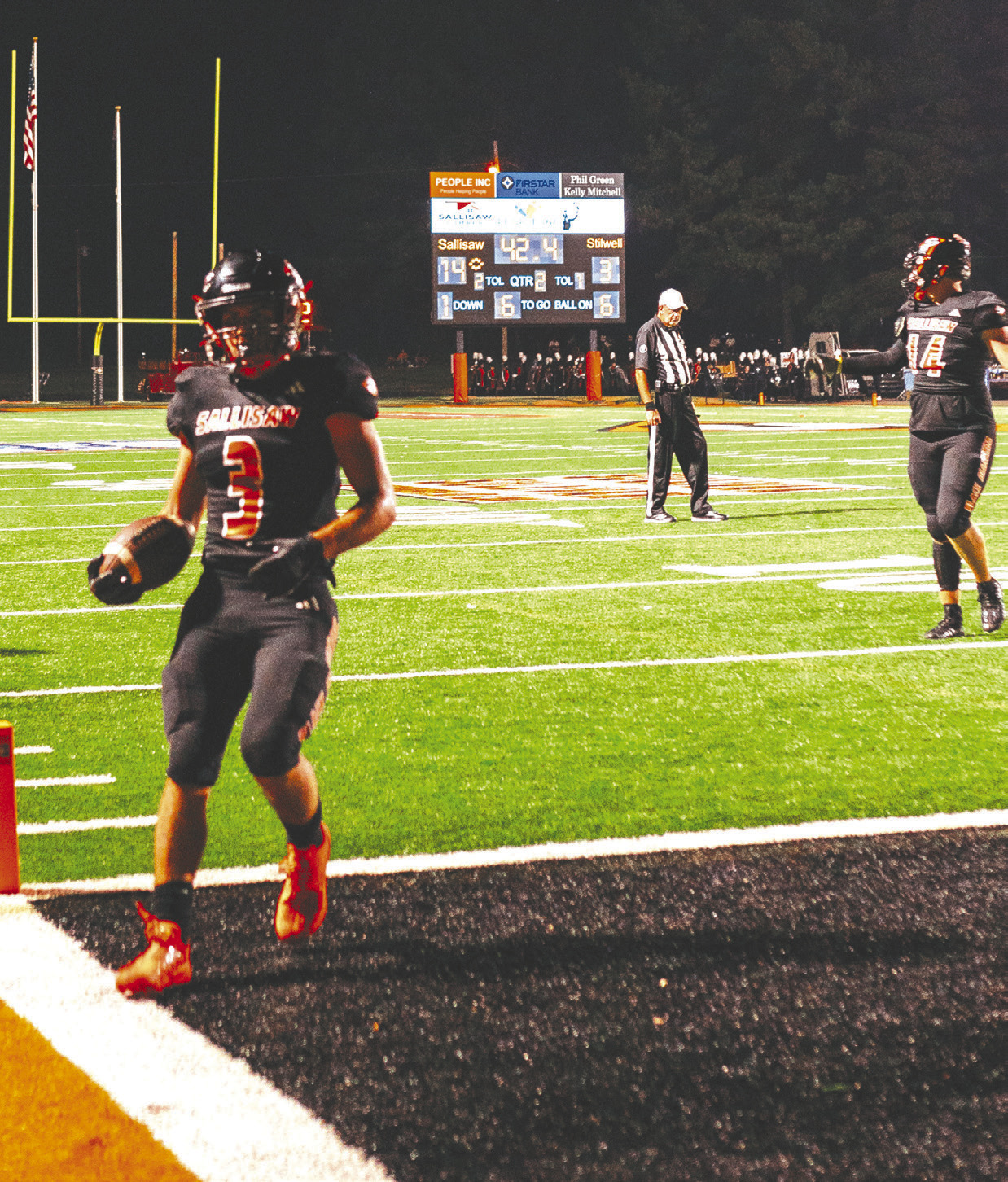 B: Sports
October 3, 2023
SALLISAW FOOTBALL
Black Diamonds get first District 4A-4 win since 2021 with homecoming rout of Stilwell
For the third time this season, the Sallisaw Black Diamonds ended a "bad" streak. After ending a 17-game losing streak and a two-game losing streak on the same night with the road win over Muldrow on Sept. 8, the Black Diamonds ended their District 4A-4 losing streak Friday night.
The Black Diamonds won their first district football game since a 34-12 win over Tulsa McLain on Sept. 24, 2021, as they routed the Stilwell Indians 41-17 for a happy homecoming victory Friday night at Perry F. Lattimore Stadium.
"Our kids were focused," Sallisaw coach Brandon Tyler said. "They knew what the task at hand was. I was proud of their efforts."
Trailing 3-0 after the opening period after a Stilwell 25-yard field goal with 1:59 left in the quarter, the ensuing Sallisaw drive was cashed in by senior running back, and homecoming king, Cole Stephens as he took it in from four yards out on the first play of the second quarter. Brian Castor hit the extra point for a 7-3 lead for the Black Diamonds (3-2 overall, 1-1 in district play) with 11:56 remaining before halftime.
After stopping the Indians (23, 0-2) on their next possession, the Black Diamonds, and more specifically Stephens, hit paydirt as he scored on a 14yard touchdown run. Castor's PAT upped Sallisaw's advantage to 14-3 with 4:19 left in the first half.
The Indians went for it on fourth down and were stopped at their own 36 with 2:16 left before halftime.
Aided by a face mask penalty on the Indians, the Black Diamonds cashed in the takeaway on a 7-yard TD run by Stephens, who scored his third TD of the quarter, with 41 seconds remaining in the first half. Castor's extra point made it a 21-3 halftime lead for Sallisaw.
After stopping Stilwell on its first two drives of the second half, off the punt at the end of its second drive, Brodi Nickell returned the punt 19 yards to set Sallisaw up at the Stilwell 38 with 6:08 left in the third quarter.
Three plays later, Stephens scored his fourth touchdown of the game on a 5-yard run. However, after a false start penalty, it made Castor's PAT five yards longer, and in the end he hooked it wide left to keep Sallisaw on top 27-3 with 5:26 left in the period.
It didn't take long for the Indians to respond as they scored on the first play from scrimmage on an 80-yard TD pass, followed by a successful extra point, to cut the Sallisaw lead to 27-10 with 5:12 remaining in the quarter.
The Black Diamonds then responded with a scoring drive capped by Stephens' fifth TD — this one a 42-yard strike from Jackson Harris to Stephens with 1:34 left in the quarter. Castor's PAT upped Sallisaw's advantage to 34-10 after three quarters.
Aided by a pass interference penalty on Sallisaw on the ensuing Stilwell drive, the Indians scored on a 3-yard touchdown pass and a successful extra point to cut their deficit to 34-17 with 11:26 left to play.
The Indians attempted and recovered an onside kick, but they were penalized for being offside. When they tried it again, the Black Diamonds recovered.
It looked as if Stephens scored his sixth TD of the night on a 43-yard run, only to see it nullified by a holding penalty with 10 minutes remaining in the game. Unfortunately, he broke free on the next play, only to be stripped of the ball, which was recovered by Stilwell at its own 10 with 9:02 left in the game.
However, the Indians got as far as the Sallisaw 37, where they were stopped on downs.
The ensuing Sallisaw drive ended by Stephens finally getting that sixth touchdown of the night, a 30-yard run with 5:59 remaining to play. Castor's PAT made it 4117.
"Cole Stephens and our offensive line did a good job," Tyler said. "Jackson came in at quarterback and did a good job running our offense. We kind of bogged down a few times, but we finally figured things out and got on a roll, and were able to get it going."
Just for good measure, Sallisaw's Noah Briley recovered a Stilwell fumble in the final 1:30 to seal the deal as the Black Diamonds ran out the clock, and celebrated their first District 4A-4 victory in almost 750 days.
"We started off kind of slow with homecoming and all the distractions all day long," Tyler said. "Our defense played superb again. Our defensive (coaching) staff has done a tremendous job with those guys. They played hard again. I'm proud of the effort out of them. It was a great homecoming win."