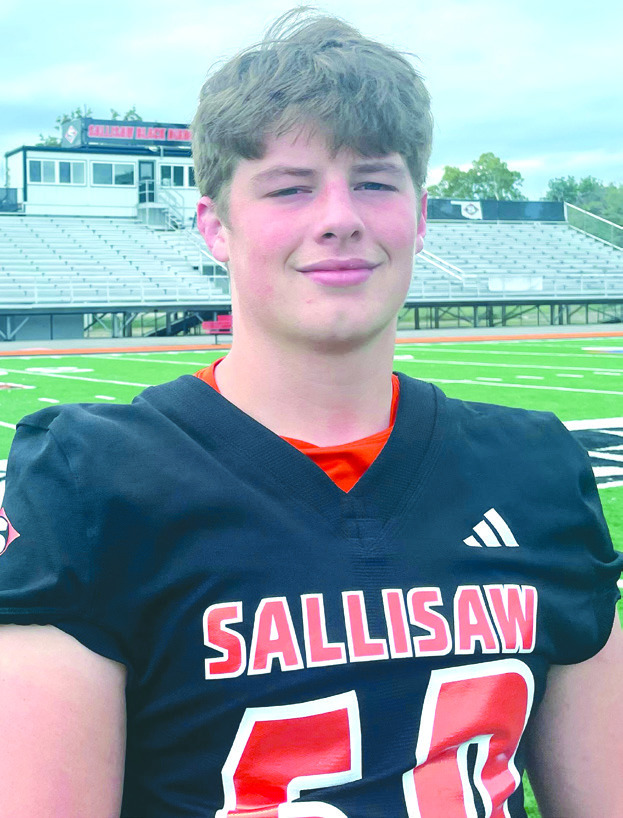 B: Sports
October 5, 2023
SALLISAW FOOTBALL
Sallisaw senior offensive lineman has good vibes about Black Diamonds
Sallisaw Black Diamonds senior offensive lineman Caden Pollard is positive things will go well for his team down the final month of the District 4A-4 season.
Things got started with last Friday night's homecoming district win over Stilwell at Perry F. Lattimore Stadium. It was Sallisaw's first district win since Sept. 24, 2021.
"It felt great," Pollard said about the Stilwell win. "It especially felt great to beat Stilwell after last year's disappointing loss (losing to the Indians 30-20 in Stilwell). It really felt good to get that (first district win) under our belts after facing Ada (losing 7-0 the week before). That win not only ended the districtwin drought of two years, but the victory over the Indians helped keep the Black Diamonds near the top of the District 4AS-4 standings — just a game behind Poteau and Ada, going into tonight's district slate of games.
"It feels great," Pollard said about being near the top in the district standings. "(First-year) coach (Brandon) Tyler has been talking about fighting for that firstplace tie — and looking to win out, and beat Poteau. That's our goal, get a tie for first place."
The Black Diamonds will entertain the Broken Bow Savages at 7 tonight at Perry F. Lattimore Stadium. Pollard said he believes the Black Diamonds can get their second straight district victory tonight.
"I feel really good about it," he said. "I think we have a very good chance at beating Broken Bow. I think we can beat them by 20 (points) honestly. From what we've seen on film, we're just a lot better discipline-wise. Discipline-wise, we're a lot better than them. I think we have a very good shot at beating Broken Bow."
If the Black Diamonds beat the Savages, Poteau loses to Hilldale in Muskogee and Ada falls to Madill on the road, Sallisaw will find itself in that three-way tie atop the District 4A-4 standings by night's end.
"I would love to see that," Pollard said. "It would be very beneficial to our team, especially for our confidence — going on to Fort Gibson (Oct. 27 for Senior Night), Poteau (Oct. 19) and Hilldale (next Friday night)."