B: Sports
October 17, 2023
SALLISAW FOOTBALL
After rallying past Hilldale, Black Diamonds set up district showdown against No. 2 Poteau on Thursday
The Sallisaw Black Diamonds had to pull one out of the fire as they rallied to down the Hilldale Hornets 14-10 on Friday night on the south side of Muskogee for their third straight win — their longest winning streak since 2019 when Sallisaw won its final six district games and first playoff game for a seven-game winning streak.
Trailing 10-7 after three quarters, the Black Diamonds (5-2 overall, 3-1 in district play) got a 73 yard touchdown run by Brock Streun with 9:03 left in the game. Brian Castor's extra point put Sallisaw ahead 14-10. The Hornets (3-4, 1-3) tried to mount a rally as they got to the Sallisaw 42 with 1:10 left to play, but their drive was stopped on downs when senior defensive end Noah Flores sacked the Hilldale quarterback to seal the deal for Sallisaw.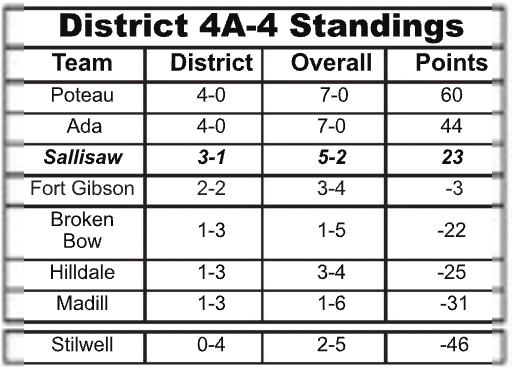 Streun actually scored both Sallisaw TDs as he also scored with a minute left in the opening period. Castor's PAT put the Black Diamonds ahead 7-0 after the first quarter, which also was the halftime score. The Hornets (3-4, 1-3) tied the game in the third quarter at 7-all, then took a 10-7 lead on a field goal in the early stages of the final period.
"It was a tough ball game," Sallisaw coach Brandon Tyler said. "We had lots of adversity throughout the ball game. I am just proud of our kids and coaching staff for being able to overcome that, and get a good win on the road. Hilldale is a good, quality football team." For the game, Streun rushed for 142 yards and two touchdowns, while the defense recorded four sacks — one apiece for Flores, Mikey Maust, Kash Keepes and Caden Pollard — and a fumble recovery by Cole Mayfield. Kolten Riggs led Sallisaw with 12 tackles, four solo, and a quarterback hurry.
The win helped the Black Diamonds remain in the District 4A-4 race, staying a game behind co-district leaders — the Ada Cougars and the Poteau Pirates.
"There's a lot of things that can happen there," Tyler said. "We can only take it one game at a time. We have to focus on Poteau this week, and we'll see where everything goes after that."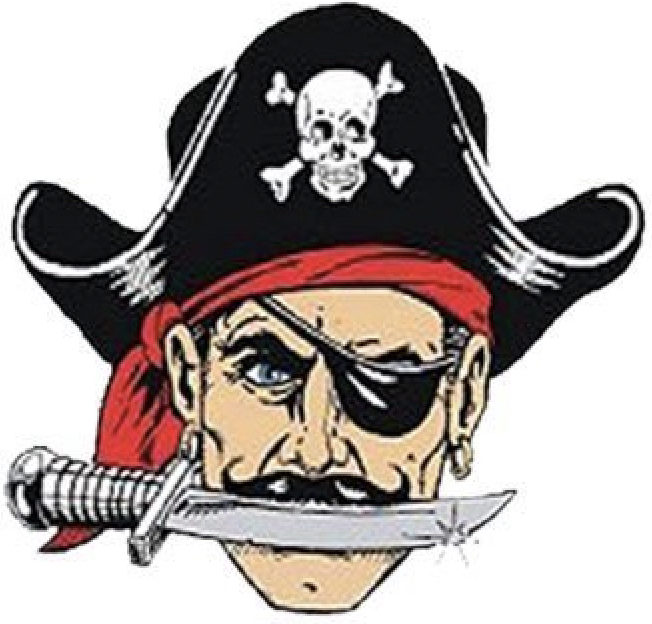 The Pirates (7-0, 4-0) are ranked No. 2 in Class 4A. They have won all their District 4A-4 games — 48-13 over Fort Gibson (Sallisaw's final home opponent next week for Senior Night), 48-0 over Madill, 56-0 over Hilldale and 50-12 over Broken Bow. Poteau won all three non-district games — 24-21 over Tulsa Bishop Kelley, 24-7 over Tulsa Metro Christian and 42-21 over Chandler.
"Poteau is a tremendous football team," Tyler said. "They're a senior-heavy team. They do a great job offensively in what they do. They're physical and fast. They have speed everywhere. They do things right in all three phases of the game. They made the semifinals last year. (Poteau) coach (Greg) Werner does a great job. He's a good friend of mine. His staff does a great job, and those kids play hard. They believe in what they're doing."
If ever the Black Diamonds need a sound football game in all aspects, it will be Thursday night.
"We have to be more consistent offensively," Tyler said. "I don't think we were very consistent the other night (against Hilldale). We have to hang on to the football. We have to put some drives together and get some points on the board. Our best defense can be our offense if we can keep them off the field because they do score so fast. We have to be solid on special teams. We gave up a punt return for a touchdown last week, so we have to get some things shored up there. We have to be good in all three phases (offense, defense and special teams)."
Thursday night's 7 p.m. home game is the latest big game for the Black Diamonds, and perhaps the first such contest since they went 6-1 in District 4A-4 in 2019 — in which the only district loss that season was to Poteau.
"We've been getting our game plan ready this week," Tyler said. "I think the kids are excited about it. They're the No. 2 team in the state coming in here. I'm sure the kids are looking forward to the challenge."
Tyler is concerned about the short week — having to play on Thursday night instead of the customary Friday night.
"It's always concerning when you're playing a team like Poteau," he said. "We're going to have to prepare pretty fast. We've got to get out there in practice. We've got to get a game plan together, and we've got to go execute it Thursday night."