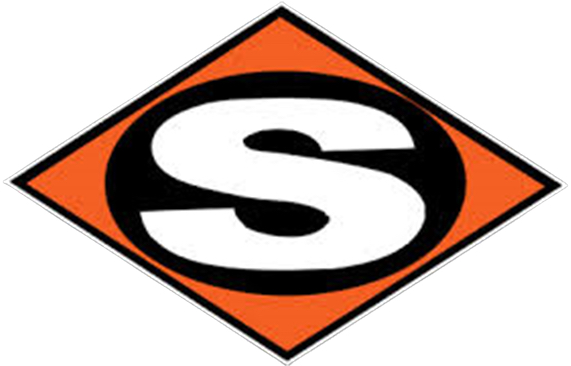 B: Sports
October 26, 2023
SALLISAW FOOTBALL
Black Diamonds welcome Fort Gibson for Senior Night
It will be a very emotional night for senior Sallisaw Black Diamonds football players, along with cheerleaders and band members, as they will be recognized prior to tonight's 7 p.m. Senior Night District 4A-4 home finale against the Fort Gibson Tigers at Perry F Lattimore Stadium.
"It's big for them to be where we are right now as compared to the last two years — and have a chance to go win and be 6-3 at the end of the week," Sallisaw coach Brandon Tyler said. "Senior Night is very special. I'm so thankful for these guys. I'm their third coach in three years. It could have been very easy to turn their backs and go a different direction. They've done a great job of responding to what we've wanted to do. I'm very proud of them and their efforts and leadership. We're going to be graduating 13 good men. I'm very proud of them and the year they've had up to this point."
The Black Diamonds (5-3 overall, 3-2 in district play) gave the second-ranked Poteau Pirates all they wanted in a 28-13 Poteau victory. The loss has all but knocked the Black Diamonds out of a shot of sharing the district championship.
"I was proud of the way our kids fought against Poteau," Tyler said. "They gave us a chance to win, or at least be in the ballgame with them. I thought we did a good job there. Our coaching staff had a great game plan. We made some adjustments at halftime, and we gave ourselves a chance. Poteau is a very talented football team. They have 23 seniors, and most of them have started since they were sophomores. They have a lot of experience. Again, I was very proud of our effort."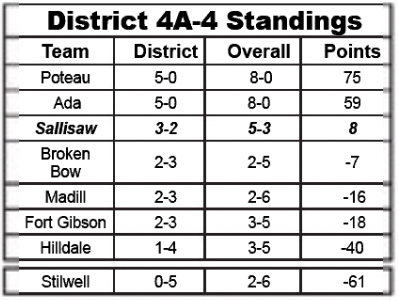 However, while the share of the district championship likely is out of reach, there are several team goals that are not — a winning record, a trip to the Class 4A playoffs for the first time in four years and winning a state championship. If the Black Diamonds win out, they will be third and likely have a road playoff game against the Miami Wardogs.
"We have a lot to look forward to," Tyler said. "We have a chance to finish (the regular season) at 7-3 and get into the playoffs and see what happens there. If we can stay healthy, I like our chances of going in and winning some games there (in the playoffs). We have to go take care of Fort Gibson first."
The Tigers (3-5, 2-3) have lost their last two district games — 48-14 last week to Ada, which came on the heels of a 27-21 defeat to Madill, which is Sallisaw's regular-season finale opponent. Fort Gibson's two district victories are over Broken Bow (3027) and Stilwell (42-7). The Tigers' other win was a 22-19 victory over Berryhill on Sept. 1.
"They're going to be a pretty good opponent," Tyler said. "Their record is kind of deceiving. They're big up front. They'll be one of the biggest teams we'll see offensively and defensively. Line-wise, they're very big. Their running back does a tremendous job of running the football downhill. He's gotten over 1,000 yards of offense. They throw the ball well enough to keep you honest. We definitely have our hands full this week. We have to continue to prepare and go out and get another win Friday night."
Tyler said the defense must contain Fort Gibson's running back, while the offense needs to generate points. Sallisaw's last two games saw it score just two touchdowns against both Hilldale and Poteau.
"We have to slow down their running game," he said. "We can't let them get hot like they did against Broken Bow. They ran the ball 62 times for 350-some yards. We have to get them in third-and-long, and force them to throw the ball a little bit. Offensively, we've got to sustain drives and not turn the football over. We have to put the ball in the end zone. We haven't done a very good job of that the last two weeks. We've got to get some points on the board."