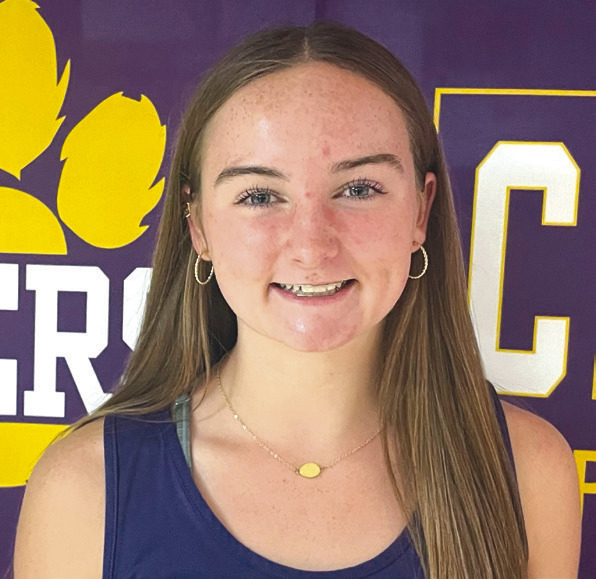 B: Sports
October 26, 2023
CENTRAL CROSS COUNTRY
Central freshman runner excited about going to first-ever state meet
Central Lady Tigers freshman cross country runner Alyvia Warner was quite amazed when she found out at last Saturday's Class 2A Regional Meet in Henryetta that she had made the cut to qualify for this Saturday morning's state meet.
"I was just happy for myself," Warner said. "I was proud because I've been running all the time. I was happy and surprised."
As it turned out, Warner will be the lone Central state qualifier for the Class 2A State Meet, which will take place at 11 a.m. Saturday at Edmond Santa Fe High School. The CHS freshman is glad to be carrying the torch for her team and school.
"I'm so happy to be a Tiger and to be here at Central (High School)," Warner said. "Everything I do in all my sports, I'm representing the school and my team. I'm looking forward to it. I'm very excited."
Warner will not be the only Sequoyah County runner in Saturday morning's state meet as she will be joined by Gore senior Hallie Kinion, who was the Class 2A Regional Meet runner-up.
"I don't know her personally, but she is a good runner," she said. "She's very athletic."
Warner would be a happy camper if she can run her best race this season and end up the Class 2A state champion.
"That would be insane,"
SEE CENTRAL CROSS COUNTRY, PAGE B4 the Central freshman said. "There would be excitement. It would be crazy. I would be amazed. It would be nice to win, but I'm not expecting anything huge. I know this is my first year, so I'm just going to be happy with whatever happens on Saturday. I'm just happy I made it this far. I'm looking forward to it. I'm preparing. I've been running this week. I'm ready."
However, there are two other possibilities for Warner. If she finishes among the top 10, she will be both an All-Star (the underclassmen equivalent of a senior finishing in the top 10 to earn All-Star status) and a medalist. If she can at least make the top 15, she will still earn her medal like she did by finishing 11th at last Saturday's regional meet.
"That's cool," Warner said about all she could possibly accomplish at Saturday morning's state meet. "I would be so proud of myself, and happy I made it that far (near the top finishers). I think that would surprise myself if I got top 10 or top 15."