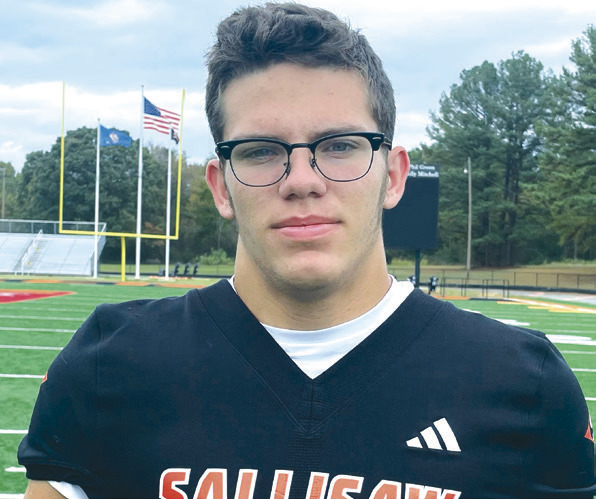 B: Sports
October 26, 2023
SALLISAW FOOTBALL
Senior running back, cornerback emotional about Senior Night
Sallisaw senior running back/ cornerback Aaron File is very emotional about tonight's 7 p.m. Senior Night game against District 4A-4 foe Fort Gibson at Perry F. Lattimore Stadium.
"It sucks because this is my final home game," File said. "It sucks not being able to play another home game. Everyone here supports you. You have to defend them, so not being able to play another home game is very hurtful. I'm definitely looking forward to Friday night."
After the last few years of lack of success against the Tigers, he thinks there's a good chance to change the team's fortunes tonight.
"The last few years, when we've played Fort Gibson, things haven't gone too well — not at all," File said. "The practices this year seem more exciting. It feels like you have more to play for. We have that winning record and we've had winning streaks."
One of the team goals seemingly has been taken away, that being a chance at a district title outright or a share of it, when the Black Diamonds lost last week's home game to the second-ranked Poteau Pirates. However, the Black Diamonds did keep the Pirates to their second-lowest scoring game of the season in losing 28-13.
"It hurt," File said about the loss to Poteau. "It was our last time playing Poteau. It hurt because we (seniors) lost to them every year, but the fact about mentally winning. That was definitely a mental win for us because we have never played that well against them since I've been here. It sucked (losing to Poteau), but we also have to look at the brighter side. We did very well against Poteau — really well."
However, being optimistic, File is hoping the two teams will face off once more in the Class 4a playoffs.
"(The Poteau loss) ruined the chance with getting a home game for the playoffs, but there's not much we can do about that," he said. "We just have to hold our heads up. Hopefully, we'll get to play them (Poteau) again in the playoffs."
Something that does fuel File's fire is what else there is to play for this season, like a winning record, a playoff berth and a state championship.
"It's extremely exciting," File said. "(Making the playoffs) is the first time in four years. It's like a shot of redemption. It's weird to explain. It's extremely exciting. It will give us more time to play. We'll get to keep playing this sport (beyond regular season). It's our (seniors') last year. We really have to hold on to these last moments."
Of course, just the right scenario has to happen in the postseason, but if the right teams continue winning out — including Sallisaw — File is hoping that a home playoff game would materialize.
"That would be extremely exciting," the Sallisaw senior said. "Being able to play a home game in the playoffs would not be something I was thinking could happen in the last few years. To be able to do it, that's just really exciting."
File is quick to point out how much new coach Brandon Tyler has helped to bring that excitement and enthusiasm.
"It's also like the confidence our coaches have in us," he said. "Their confident in us to be able to go play. The last few coaches really haven't felt like that. It's a new thing with a different coach. Each coach has their own coaching style. Coach Tyler definitely has brought a lot of joy on to this team. It's gotten us to grow closer."