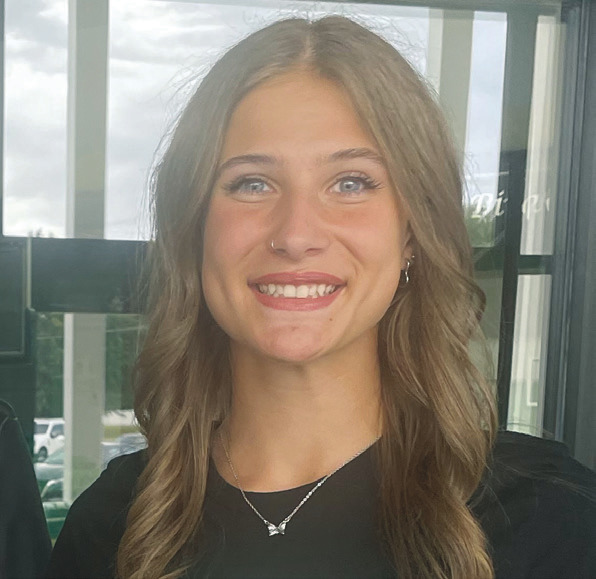 B: Sports
October 26, 2023
GORE CROSS COUNTRY
State meet will be bittersweet for Gore senior cross country runner
Gore Lady Pirates senior cross country runner Hallie Kinion has mixed feelings about her final Class 2A State Meet, which will begin at 11 a.m. Saturday at Edmond Santa Fe High School.
"I don't like to think too much about it (final high school meet)," Kinion said. "At regional, it kind of hit me that this is my last time ever performing against some of these girls. It really hit when one of my good friends, Cheyanne Herrier of Webbers Falls unfortunately didn't qualify. She's good. She's been improving massively, but it really hit that this was my last time to get to run with her in cross country. It's definitely bittersweet because I'm excited because it's a chapter of my life that has really changed me. It's really made me grow as a person. It's also sad because it's coming to an end — yet I love it."
Nonetheless, she's glad to be ending her high school career at state.
"I'm super excited," Kinion said. "It's a mix of like anxiety because I'm nervous but it's more excitement because I'm ready to run against the fastest girls in the state and see where I stand among them."
Kinion, who was the Class 2A Regional Meet runner-up last Saturday morning at Henyetta, has actually surprised herself with her success in her final season as a Lady Pirate.
"This year, if I'm being completely honest, I was not expecting to do as well as I have," she said. "Before the (regional meet) race, the past two years I didn't qualify. I was really nervous (at last Saturday's regional meet), but I had that inner voice telling me if you don't qualify, you're going to be so disheartened. This was the first time I've placed high enough to where if you make the top seven, you know you're going. That (regional) race solidified for me that I have a chance to All-State (by finishing in the top 10. It really gave me a boost in my confidence. It was super exciting."
After her two-year drought of not being a state qualifier, the Gore senior is happy to be ending her high school cross country career at state.
"I'm super excited," Kinion said. "I'm super grateful that I get to go. I'm really glad that my (hard) work has paid off. This year has been the best I've been, not just in my running but mentality wise I feel that I've gotten that much stronger. I'm super glad."
Kinion knows she will have to run her fastest time this season to beat out the field of runners to be crowned Class 2A state champion.
"I would have to run one heck of a race if I were to be a state champion, but if that were to happen that would be just crazy," she said. "As of right now, there are out west some girls who are just insanely fast. My goal is just the top 10 — the top 15 in the worst-case scenario. Either way, it's a medal. If I were to get out there and run that race, then it would be just amazing (to win state)."
A more realistic aspiration for the Lady Pirate senior is finishing in the top 10, which would earn her All-State status.
"That would basically be a dream for me," Kinion said. "The past three years, my goal, especially this year, is that by the time I graduate, I want to get one of those OSSAA (Oklahoma Secondary Schools Activities Association) medals because I think they look so cool. It also would be a huge accomplishment, so just getting one of those medals, getting top 10 and getting All-State would just be amazing. I would be way too excited."
No matter the outcome of Saturday's state meet, it will be Kinion's final competitive running event as she has plans on serving our country.
"I'm trying to either get into the Air Force Academy or the Naval Academy at this point," she said. "It's something I've always wanted to do since I can remember. I'm a military brat, so I grew up in the Air Force. It's a life I know. That's what I want to do. I'm not really trying to run (competitively) after high school. I'll keep on doing it for fun, but I'm not pursuing running at the collegiate level."