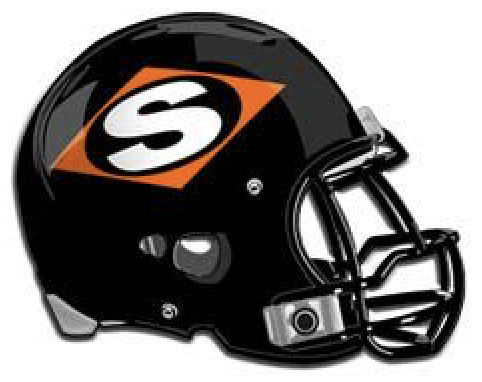 B: Sports
November 2, 2023
SALLISAW FOOTBALL
Black Diamonds end regular season tonight at Madill with hopes of grabbing a playoff berth
The Sallisaw Black Diamonds will conclude their 2023 regular season with a 7 p.m. road District 4A-4 game against the Madill Wildcats at Madill's Alumni Stadium.
The Black Diamonds (5-4 overall, 3-3 in district play) are hoping tonight's game isn't the last one for this season. With a win, the Black Diamonds will earn a playoff berth. Whether that will be third or fourth place depends on two other key district games tonight, Hilldale at Fort Gibson and Broken Bow at Ada. Entering tonight's action, Sallisaw, Fort Gibson and Broken Bow are all tied for third place at 3-3 in the district.
If the Black Diamonds, Tigers and Savages all win tonight, then all three teams will remain tied for third place — and district points will determine third and fourth place.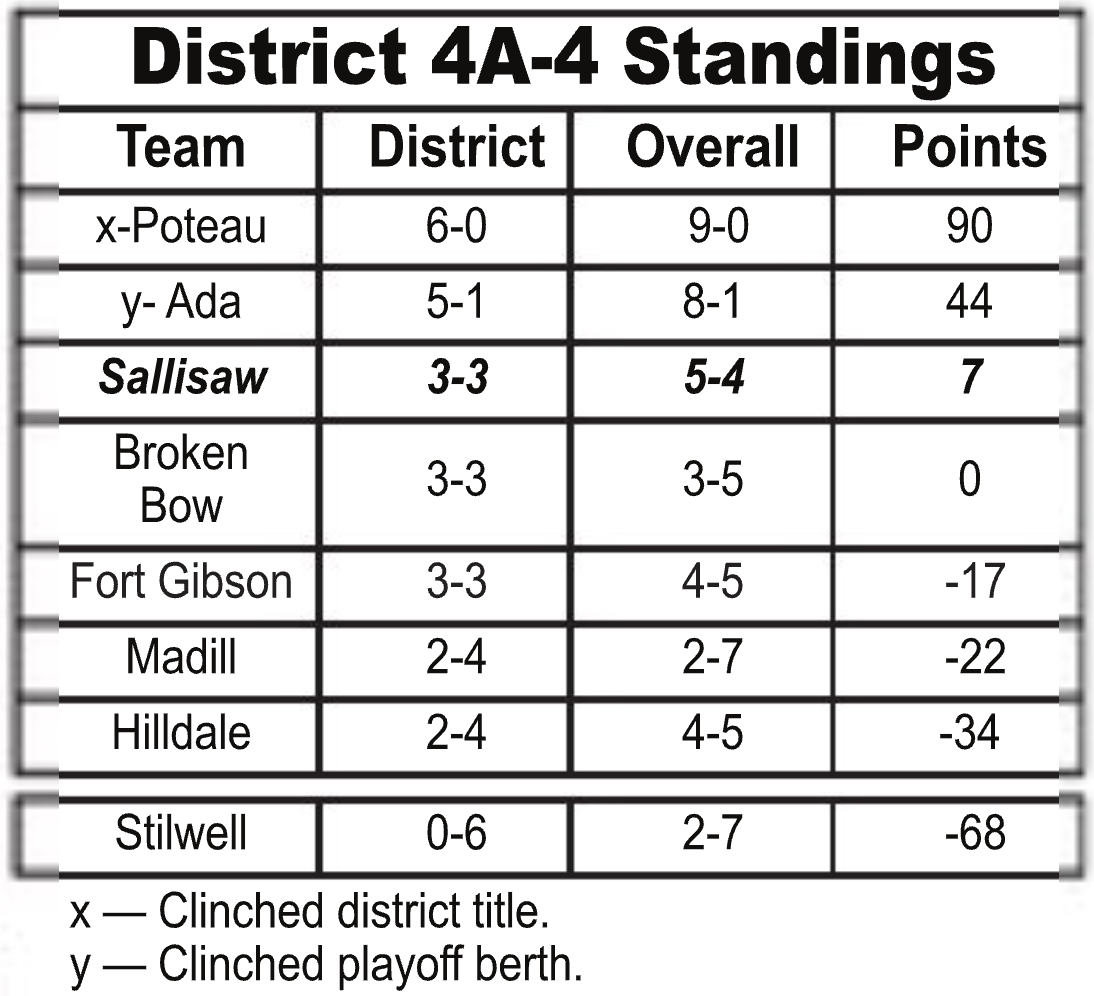 If the Black Diamonds and Tigers win, and the Savages lose, then Fort Gibson will be third and Sallisaw fourth in the district.
If the Black Diamonds win and the Tigers lose, Sallisaw will be third regardless of what the Savages do tonight against the Cougars.
"We still have a lot to play for this week," Sallisaw coach Brandon Tyler said. "We just have to go down to Madill and play well, and see what happens. We still control our own destiny. We don't have to depend on anyone else. That's good."
However, a Sallisaw loss could either make them be no higher than fourth, or even be out of the Class 4A playoffs altogether. If Madill, Hilldale and Ada win tonight, it will cause a five-way tie for third place between Sallisaw, Fort Gibson, Broken Bow, Madill and Hilldale all with 3-4 district records. Then, it will come down to district points to determine which two teams will be third and fourth and be postseason bound.
"(With a loss), third (place) would be out of the question, but there would still be a possibility of fourth (place)," Tyler said. "It would come down to points."
One factor of why so many scenarios are on the table tonight is because the Black Diamonds fell 49-48 in overtime last Friday on Senior Night at Perry F. Lattimore Stadium.
"It was a very tough loss last week to Fort Gibson obviously," Tyler said. "I thought our seniors played hard. Our whole team played well. We just couldn't get a stop on defense when we needed to."
The big play came in OT when Tyler called timeout after scoring a touchdown after the Tigers scored. He decided to send the offense back on to the field to win the game with a two-point conversion instead of allowing place-kicker Brian Castor to attempt a gametying extra point. Quarterback Brock Streun was stopped just outside the goal line, and the Tigers left with a one-point win.
"The two-point conversion play, I wish I had that call all over again," Tyler said. "You can if-and-but yourself all weekend long. I beat myself up over it, and I still am. I'm very proud of our kids. At least we're still in the spot right now where if we go win Friday night, we're still in the playoffs. That's something we are thankful for and have been working towards this week."
One positive that came out of the game was Sallisaw's offense unit scoring points. After the previous two games only scoring two TDs against each Hilldale and Poteau, the Black Diamonds hit paydirt seven times.
"Offensively, I thought we did well," Tyler said. "We did a lot of good things executing pretty good on offense the other night, minus one play there (the failed two-point conversion in overtime). I thought our (offensive) line did a good job controlling the line of scrimmage. I thought (quarterbacks) Brock and Jackson (Harris) did a tremendous job running our offense. Anytime you have two (offensive) backs (Streun and Cole Stephens) have over 100 yards rushing, that's good. If (running back) Broque's (Oft) one touchdown (a 57-yard TD run with four seconds left in the first quarter) doesn't get called back, we would have had three guys over 100 yards rushing. I thought we threw the ball well when we needed to. I thought our receivers did a good job of catching the ball. I thought Max Stump and Cooper Cox had a good game out wide catching the football."
However heartbreaking the Senior Night loss was to the Black Diamonds, they are now focusing on the Wildcats (2-7, 2-4).
"They have been playing well here lately offensively," Tyler said. "Their quarterback has done a tremendous job of running the offense. They beat Fort Gibson and Stilwell, but go to Hilldale and get beat. It's going to be Senior Night for them, so they'll be playing with high emotions. We have to go to their place and take care of business."
Tyler said the Black Diamonds will need to play well in all three facets of the game tonight to get the most important win to this point in the season.
"Defensively, we've got to get some stops," he said. "Offensively, we have to take care of the football. We have to continue to score points. At the end of the day, we have to go down there and just be solid in all three phases — offense, defense and special teams — and see what happens. Again, we have to have everyone come together and get on the same page this week to give ourselves a chance to win."
Another factor against the Black Diamonds is the three-hour bus trip to Madill, located 28 miles west of Durant in Marshall County.
"It's a three-hour bus ride for us down there," Tyler said. "So, we have a lot of things we have to overcome. We just have to go down there, get off the bus and go win a ball game."
• • • TO GET THERE — Take Interstate 40 west to Checotah. Take U.S. 69 south to Durant. Take U.S. 70 west to Madill.