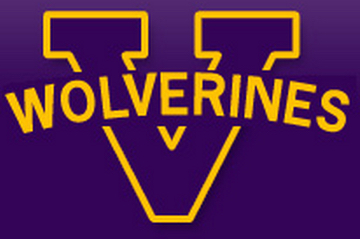 B: Sports
November 2, 2023
VIAN FOOTBALL
Wolverines entertain Sequoyah-Tahlequah on Senior Night
The mathematics are simple. You win, and you get to have a home playoff game next Friday night in your friendly confines.
That's what is at stake tonight when the Vian Wolverines entertain the Sequoyah-Tahlequah Indians at 7 tonight at St. John Stadium.
Both teams are coming in at 6-3 overall and 5-1 in the district. Tonight's winner will be the district runner-up and entertain District 2A-6's third-place team, the Heavener Wolves, next Friday night, while the loser will end up third and will have to travel to either Eufaula or Idabel. The Ironheads will visit the Warriors tonight in Idabel to decide the District 2A-6 championship — with the loser being the district runner-up.
"Both sides will be ready to go," Vian coach Gary Willis said. "Sequoyah-Tahlequah really has things going on. We have the same records coming in. It is for that home playoff game. It will be like a playoff game. Everybody wants to play at home. Luckily, we have them here. Playing in front of our crowd is always a bonus. It will be a tough game."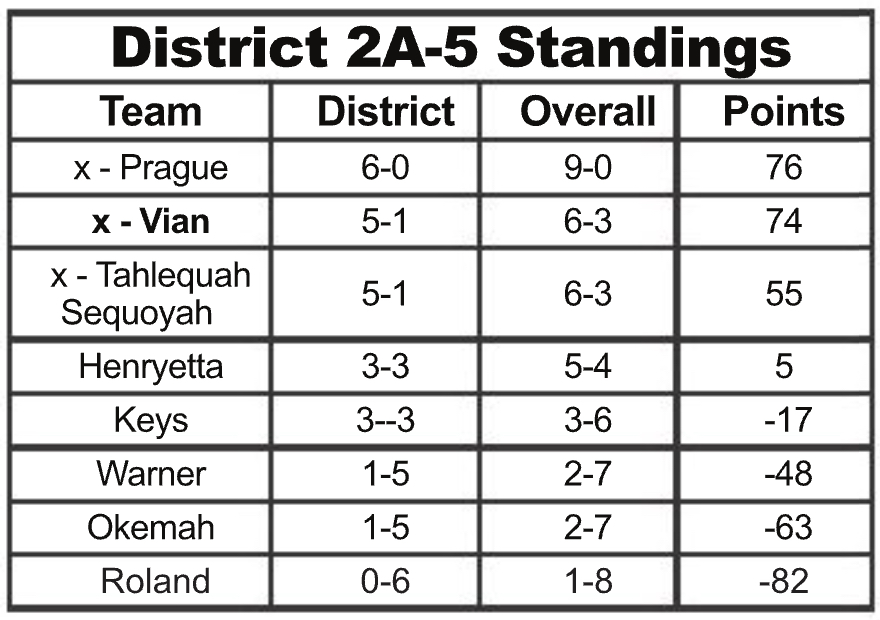 Tonight's game will mark the last regular-season game at St. John Stadium for Vian's three seniors — Lane Jameson, Clay Clark and Nathan Creasey — so the game also is big to send the senior trio out in style.
"They all have done a good job for us," Willis said. "We want to finish up strong. It ought to be a really good game."
The Wolverines lost out on the district title when they lost 29-23 in overtime last Friday night in Prague. However, Willis said the loss has seemed to make the Wolverines that much hungrier for a win tonight to clinch second place in District 2A-5.
"They're focused (on Sequoyah-Tahlequah)," he said. "They played a really good Prague team. We had some things going against us, and obviously that (loss) hurt us. You take the best you can out of it. You learn and grow from it. You move on and use it to fuel you. When I walked into the locker room, the boys had the score written on the marker board — Prague 29, Vian 23. They're using it (the loss) as motivation."
As Sequoyah-Tahlequah quarterback Brody Young goes, so go the Indians.
"They've improved every week," Willis said. "Their quarterback has done a really good job throwing the football. They're big up front. They have size on their line. They have a receiver they throw to a lot. They can run the ball some, but they like to throw more than run." receiver they throw to a lot. They can run the ball some, but they like to throw more than run."
The Vian School Board will be retiring the jersey of former Vian Wolverine and National Football League player Kenyatta Wright at tonight's football game, honoring the success of the former student in the NFL. The ceremony will start at 6:35 p.m.
Wright played for the Wolverines from 1992-95, where he earned All-State Football honors. He then continued his football career at Oklahoma State University from 1995-99. He was selected second team All-Big 12 in 1997 and in 1998. After OSU, Wright played in the NFL for the Buffalo Bills and the New York Jets.