B: Sports
November 7, 2023
SALLISAW FOOTBALL
Black Diamonds blank Madill to earn first playoff berth in 4 years
MADILL — There was a lot of hoping that this turnaround season for the Sallisaw Black Diamonds football team would end up with the first Class 4A playoff berth in four years. Hope springs eternal.
The Black Diamonds blanked the Madill Wildcats 27-0 in last Friday night's regular-season finale and final District 4A-4 game of the year at Alumni Stadium to earn Sallisaw its first playoff berth since 2019.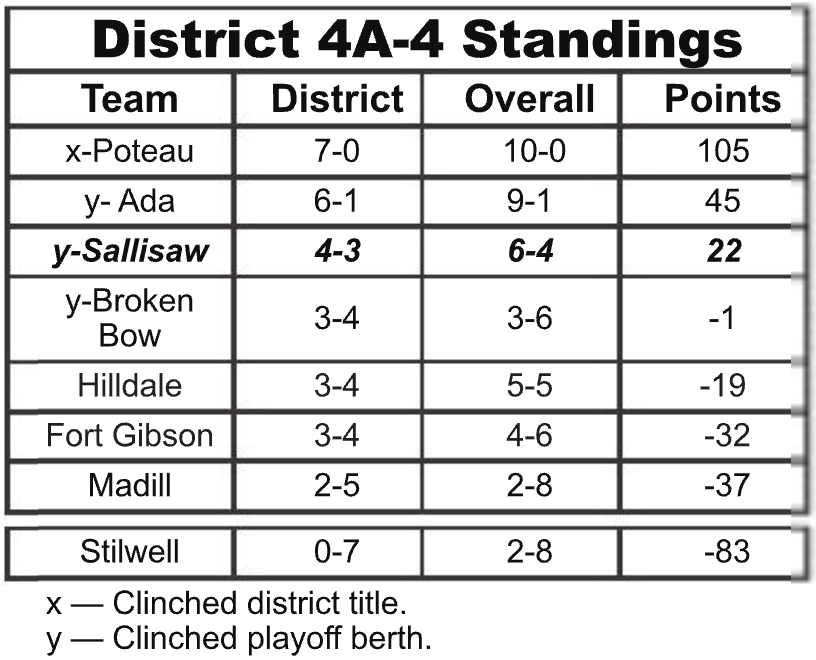 The Black Diamonds (6-4 overall, 4-3 in district play) will hit the road to begin postseason play at 7 p.m. next Friday against District 4A-3's runner-up Cushing Tigers — who walloped the Skiatook Bulldogs 61-7 last Friday night.
Sallisaw quarterback Brock Streun passed for 70 yards and two touchdowns — one apiece to Cooper Cox and Braxton Lamb. Cox caught three passes for 47 yards and a TD, while Lamb caught a 4-yard touchdown pass. Streun accounted for three of Sallisaw's four touchdowns on the night as not only did he pass for two scores, but he rushed for 73 yards and a TD.
Sallisaw's other QB, Jackson Harris, threw for 59 yards and rushed for 50 yards while Cole Stephens had 32 yards rushing and caught a 5-yard pass. Cox had a 6-yard run, Broque Oft rushed for 52 yards, Brodi Nickel had a 47-yard reception and Case Adams had a 37-yard run.
Just as potent as the offense was, so, too, was the defense. The Black Diamonds allowed the Wildcats (2-8, 2-5) just 81 yards rushing and 145 yards passing for a total of 226 yards of total offense — while Sallisaw's offense amassed 356 yards of offense. The Black Diamonds had three quarterback sacks and limited the 'Cats to just 3-for-13 on thirddown conversion.