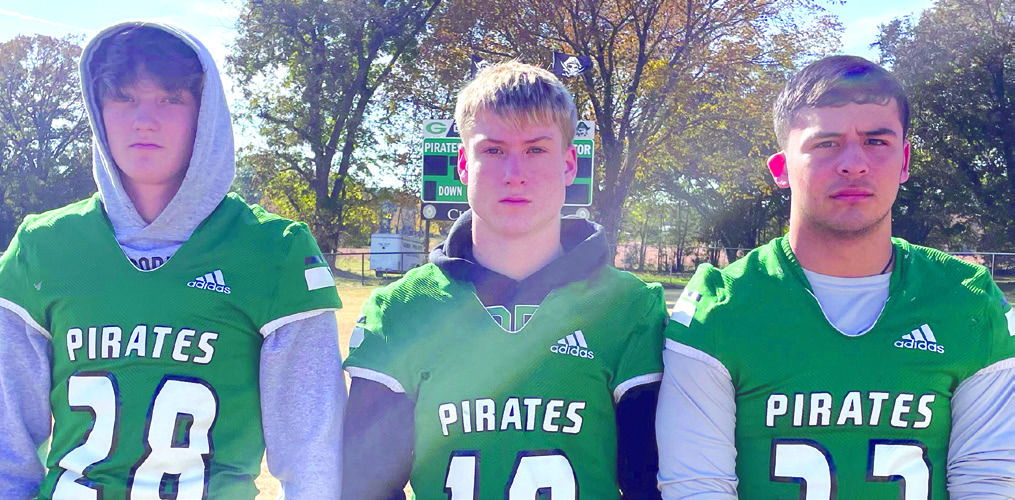 B: Sports
November 9, 2023
GORE FOOTBALL
Pirate football trio ready for another deep Class A playoff run, starting tonight at home against Fairland
The Gore Pirates came within four points of a perfect season and a gold ball as Class A state football champions. Now, they're ready to make another deep postseason run — and end up with the gold ball as state champions, and not the silver ball for being runner-up as in 2022.
"It feels great," Gore junior linebacker Ayden Cox said. "It's a tradition here to make a deep playoff run. We're just trying to carry it on." Not many high school prognosticators were giving the Pirates much of a chance to have a good season, let alone make a playoff run back to the Class A state championship — which they lost 32-28 to Fairview last December — since they lost 23 members from the 2022 Class A state runner-up team. Freshman running back prove them wrong.
"We're family," Mannon said. "We all come and work together. We've worked hard for everything we've got. We've won ball games."
Just like last year, the Pirates (8-2) will begin the Class A playoffs at K.G. Horn Stadium as they will welcome the Fairland Owls (5-5) to town tonight for a 7 p.m. openinground postseason game.
"I'm real excited that we get to host a playoff game again this year," junior running back/linebacker Jagger Moore said. "On this field, we haven't lost a regular-season game in a very long time. It's very important for us to play on this field."
All three Pirates said the team has what it takes to not only get back to the state finals, but bring home the state championship — which would be Gore's first football state title in the history of the program.
"We know how to get there (to the state title game)," Cox said. "We've been working and driving to get back there."
"We have good players and some great coaches," Mannon said. "We're good with what we've got."
"We've all worked hard together," Moore said. "We're all one big family. I think when you're a family, you can do anything you want — and for us, it's to bring home the gold ball. That would mean everything to us. We fell short last year. I think everyone is ready for us to bring home the gold."