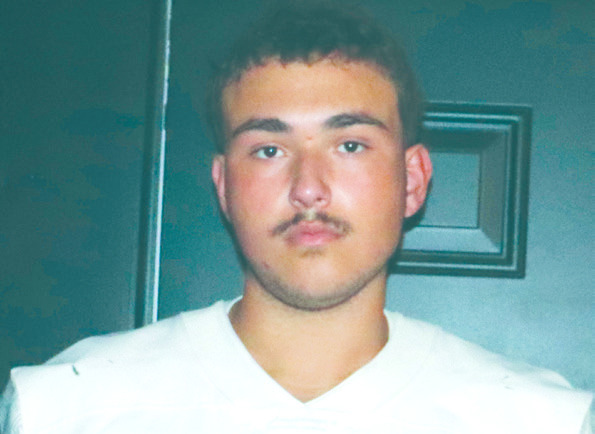 B: Sports
November 9, 2023
SALLISAW FOOTBALL
Sallisaw senior lineman glad for one more postseason journey
For the first time since his freshman season, Sallisaw Black Diamonds senior lineman Nathan Stites will get to enjoy one last postseason journey, which will begin with tonight's 7 p.m. Class 4A opening-round playoff game at Cushing.
When the team officially clinched one of the four District 4A-4 playoff berths with last Friday night's district road victory at Madill, the emotions could not be contained.
"It's a completely new feeling," Stites said. "Everyone was in tears and crying. It was just an emotional atmosphere. It's just something that you don't experience. The last time we went to the playoffs was the COVID year in 2020, and I was a freshman. It didn't feel like we earned it (playoff berth) as much as we did this time."
Since the Madill game had the feel of a playoff game, since a loss could have kept the Black Diamonds out of the Class 4A playoffs altogether, the senior lineman said that game can be used by the team in tonight's postseason opener at Cushing.
"It's definitely more intense," Stites said. "You're playing a harder game. You're playing like it's almost life or death — win, or lose and go home. We knew that coming into the Madill game. I think it's elevated our playing level. I think we'll be able to use that against Cushing in a positive way."
Just to get one more playoff trip under his belt before graduating in May could not be more welcomed for Stites and his fellow senior teammates.
"I've been playing football with these (senior) guys all my life," he said. "This is the first time we've ever done something this big when it comes to high school football together. It's awesome. We all cried after the (Madill) game. It's an emotional experience. It's not something you get to live out every day."
Since this is all 13 senior players' final season to play on the gridiron, that's been acting as a motivator to make this season last as long as possible.
"We're nearing an end," Stites said. "Being a senior, we're hoping we can make this go for four more weeks. For the seniors, it's definitely been different than the underclassmen. We (seniors) definitely care a lot more. This may be the last time I ever touch a football field. The underclassmen have another shot next year, and I think they're going to ride off our success and continue the tradition. We just want to re-establish the culture here. As a senior, I want to end on a good note. Us getting into the playoffs is a way to end on a good note, but that state championship is just a few games away. I'm just excited."
To say Stites and his Black Diamonds teammates are pumped up for tonight's Class 4A playoff opener against the Cushing Tigers is an understatement.
"This is exciting," he said. "The playoff game is just a different atmosphere. I think we felt a little bit of it at Madill — the whole life or death situation. It's exciting, but nerve-wracking. We're going to have to play at a different level than we've played the entire season. We're going to have to play the hardest we've ever played. We have to leave it all out on the field."