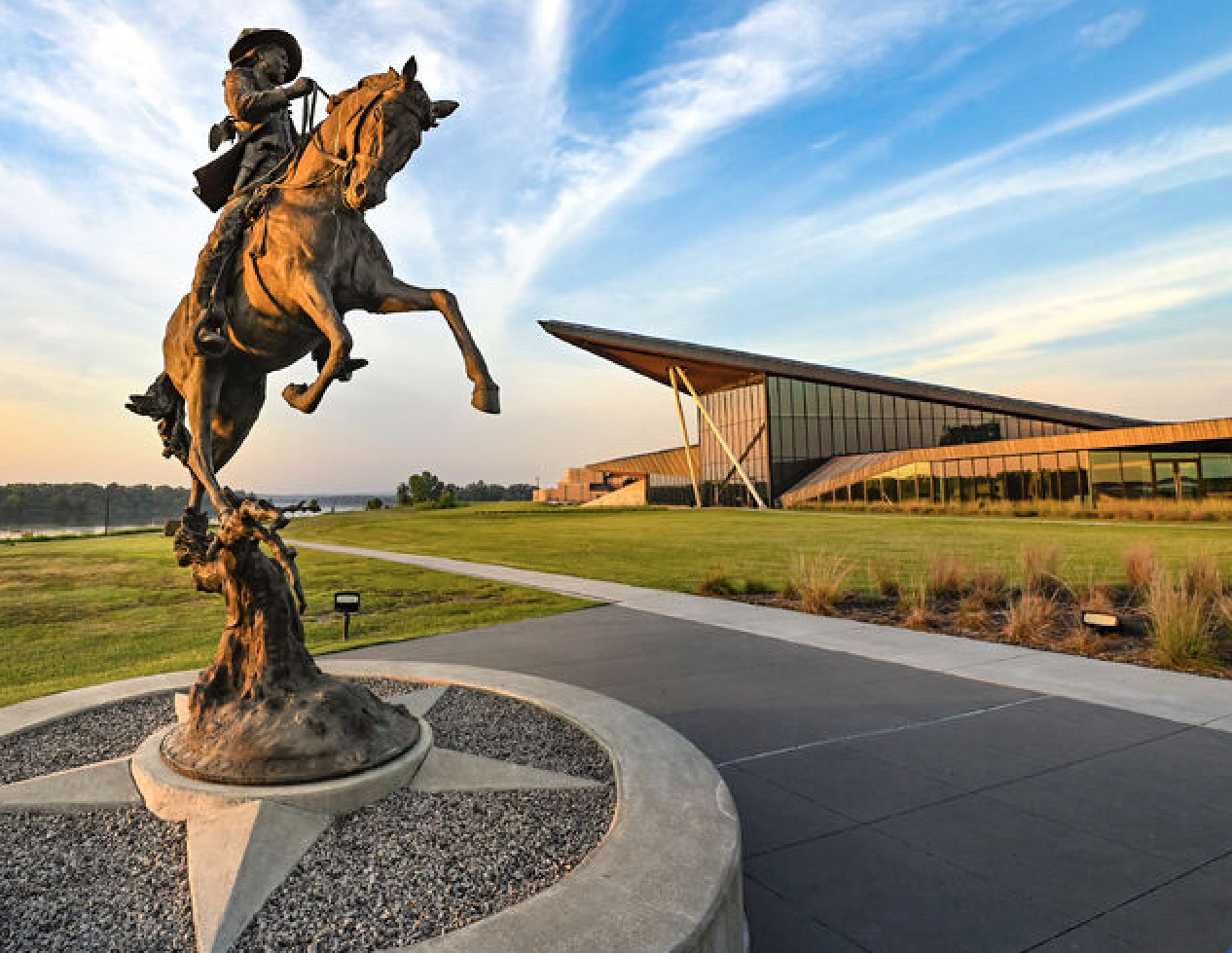 A: Main
November 16, 2023
Marshals museum offers 'most engaging experiences,' and is not what visitors expect
Ben Johnson, who had never even visited Arkansas before he moved to Fort Smith in August 2022 to become president and CEO of the United States Marshals Museum, is battling a stereotype when he encourages area residents to visit the new museum overlooking the Arkansas River. Because museum patrons too often expect history to be presented the way it has always been presented.
The United States Marshals Museum is not what visitors expect.
"We aren't another strictly Old West museum. We are not another Fort Smith national historic site extension. This is not all about Judge Parker and how many bad guys from Indian Territory we could go get and bring back a n d hang i n Fo r t Smith," Johnson told chamber members Wednesday at the monthly membership luncheon at Carl Albert State College's Stites Center.
And while one of his goals is to convert potential museum visitors, Johnson — who spent most of his life in Oregon, Nebraska, New York and Iowa — was an immediate proselyte when he arrived in western Arkansas.
"I was really overwhelmed by the physical beauty of the state, and this part of the country was not at all what I expected it to be," Johnson says of his new home. "When I pulled up for the very first time to this setting, it was pretty remarkable to me that this was a project that had had a challenging life up to that point."
Fort Smith was selected in 2007 as home for the new museum, but Johnson notes that "over the course of 15-plus years, the community, the board and the staff had really been pushing a rock very, very slowly up the hill and trying not to let it fall back and roll over them."
But completion of the museum hit high gear in October 2022, "creating what I think is one of the most engaging exhibit experiences that I've ever had the pleasure to work in, certainly, but really have ever walked into."
And nine months later, the futuristic-looking structure opened its doors. In the four and a half months since that opening, the museum has welcomed about 30,000 visitors.
Although the building's exterior looks like it was created more for The Jetsons than for Bass Reeves, Johnson says the 20,000-square-foot structure is based on the shape of a marshal's badge.
"It is actually inspired by the last scene of the movie 'High Noon' with Gary Cooper, where he takes his badge off and throws it on the ground and walks off into the sunset. There's a shot where his badge is partly in the dirt. That, apparently, was the inspiration of our building. It is a really tremendously coollooking building," Johnson explains.
Expect the unexpected
While the exterior is eyecatching, it's what the museum offers inside that excites Johnson.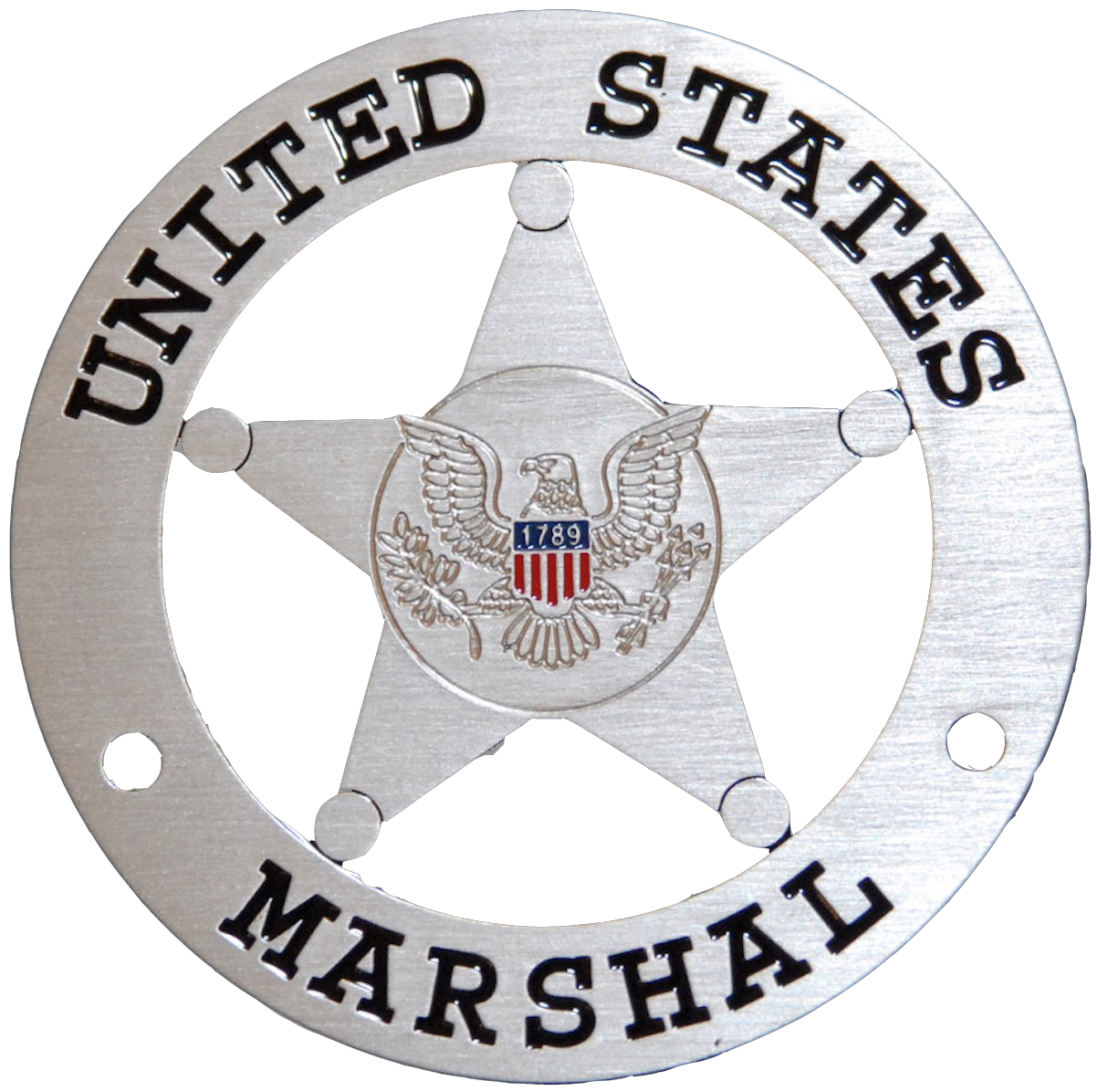 "We're here to tell the 235year history of the United States Marshal Service from 1789 to the present. So this is an American history story told through the lens of the Marshal Service," he says.
"And although we do touch on a handful of the Old West-type themes, a lot of folks, as soon as they walk in, they're going to say, 'That was not what I expected it to be.' They expect old guns and cases, and black-and-white grainy pictures hanging on the wall — and there is some of that — but really for a museum of the 21st century, the goal is to create an immersive, engaging experience. Interactive was one of the huge buzzwords.
"People over the age of 60 are kind of the red-meat audience, but if you want to engage anyone under the age of 60, there's going to be some degree of interactivity. They wanna push buttons, they wanna play with stuff. Just walking around with your hands in your pockets is not necessarily something that they're going to be interested in doing," Johnson says.
In offering a visual tour of the museum through Wednesday's digital presentation, Johnson highlighted a myriad of exhibits, including the Hall of Honor, where the names of 381 Marshal Service personnel killed in the line of duty are etched onto bronze plaques, 122 of them while serving out of the Western District of Arkansas, which is one of the primary historical reasons why Fort Smith was chosen as the museum's home. The museum tells the story of deputy marshals, special deputies, posse members and a large number of tribal citizens who were deputy marshals.
With Paramount network's current historical series about Bass Reeves, believed to be the first African American deputy west of the Mississippi River, interest in the Marshal Service is high.
In addition to an exhibit focusing on Reeves, Johnson admits there's another unique exhibit: "a beautiful, silver-adorned saddle that was owned by John Wayne, which has absolutely nothing to do with the United States Marshals." But he relents, "it's John Wayne" after all.
"You can't have the Old West without a saloon," Johnson adds, "so we have a period bar from the late 19th century, and there's a digital bartender that is there cleaning glasses and telling stories — his eyes will follow you around the room, and I've caught people having conversations with the bartender, but he's not actually talking to them."
Johnson notes that there's also an interactive poker table trivia game in the saloon — "little kids understand how to play this immediately; adults, it takes them a couple of times."
The pinnacle of the museum is "the campfire scene, which is kind of the center point of the gallery experience. It has four life-size figures that represent individuals from the 1780s up through present day — men and women, black and white — but they're all doing the same or a similar type job."
Other interactive exhibits are from the 20th and 21st centuries, depicting a changing nation, "which talks about a lot of the people, places, events that have shaped the United States over the last 125 years."
"This is an American story, so we go through the good, the bad and the ugly of the Marshal Service," Johnson says. "In a fair number of instances, particularly back in the 18th and 19th century, Marshals were tasked with enforcing rules and laws that a lot of folks didn't think were just, and that we now know are completely unjust," which included upholding laws such as the Fugitive Slave Act.
Other exhibits deal with additional serious events, such as protests, disasters, attacks, prohibition, Ruby Ridge, the Oklahoma City bombing, race tensions in America, integration, desegregation of schools, women's suffrage, etc. "That's a challenging bunch of subject matter," he says.
"There's a lot of these very challenging stories that normally you would think, 'OK, somebody's gonna be mad about something,' with how you tell the story or the language that you use, the words you use," Johnson reports. "So many people have come in and they've said, 'I expected to not like this, I expected to feel uncomfortable. I thought this was all like profederal law enforcement.' That was not the case at all. We have had very, very positive feedback on a lot of this stuff. We tried to do it as best we can to thread that needle between this side's 100% right, that side's 100% wrong, and we tried to do as good as we can to kind of work in the middle."
As life often imitates art, Johnson previews an exhibit that depicts Marshals on the Silver Screen.
"We do talk about Marshals in the movies. Everybody, from the first day I got here, said, 'You just need to get Tommy Lee Jones to show up and that'll solve all your problems.' I'm trying, so if anybody's got a phone number for Tommy Lee Jones, I'm happy to take it," Johnson says.
Tribal influence
The Trail of Tears and forced displacement of tribes to Indian Territory are also an important element of the new museum.
"In a lot of different ways, the story of the United States Marshal Service, particularly in this region, is the story of people who were forcibly removed from where they had come from, were originally from, and then ended up here in Oklahoma and Arkansas. And a lot of that story that we try to tell does relate to the Cherokee Nation, but we also have bits of history for the other tribal groups," Johnson explains.
Then he turns his audience's attention to a 13-foot-tall bronze sculpture created by Daniel Horsechief of Sallisaw, which is a focal point of the museum grounds.
"One of the coolest things is adjacent to our building. There's a beautiful bronze statue," he points out. "This is actually a commissioned art piece that the five tribes here in Oklahoma commissioned to represent the Lighthorse tribal law enforcement that have, in a lot of instances throughout history, worked collaboratively with the United States Marshals. There were a fair number of Lighthorse that became deputy marshals over time, and because we've had such a great relationship with the tribes as we attempted to bring this museum to Arkansas and Oklahoma, they commissioned the statue.
"It's important that this museum is here, a museum of this caliber in a region like this away from coastal megacities and here in the heartland. This is a major opportunity for business, for culture, for tourism," Johnson says.
The museum charges admission because, as Johnson explains, "it is not a federal government owned and operated museum, not a state operated museum, not a Fort Smith museum. It is an independent, nonprofit 501(c)(3) organization."
Group tours and discount rates are also available, and Johnson says programs are available to offset the cost for children educational groups. Call the museum at 479-2421789 for information, or visit usmmuseum.org.
Member of the Month
The Sallisaw Chamber of Commerce announced Clif's Pharmacy as its November Member of the Month.
Locally owned and operated since September 1997, Clif's traces its beginning to August 1972 when Clif and Fran Meece moved to Sallisaw with their children, Lee Ann and Mike. Clif opened his first pharmacy as a lease department pharmacy in a local retail chain store, before opening his own freestanding pharmacy at 505 E. Redwood.
After Clif's passing in December 2011 at the age of 73, his children, both pharmacists, took over the operation of the business. For more than 50 years, someone from the Meece family has been filling prescriptions in Sallisaw.