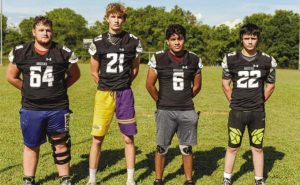 By&nbsp
Jim Cameron Sports Writer&nbsp
Gans is headed to Keota for the District B-6 regular-season finale at 7 p.m. Grizzlies head coach Brian Morton has his charges playing the best football of the year just in time to play the district's...

By&nbsp
Lea Lessley Sports Writer&nbsp
Class A No. 2 Gore looks to secure its third-straight unbeaten regular season Friday night inside K.G. Horn Stadium when the Pirates take on Porter Consolidated in a District A-8 contest. Senior Night...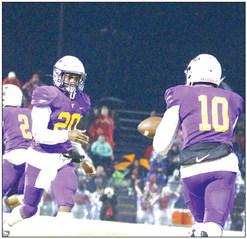 Vian's Desean Mays News Staff Fri, 11/04/2022 - 06:12
The 2022 Central Tigers seniors News Staff Fri, 11/04/2022 - 06:12
Gans education board filing begins Dec. 5 News Staff Fri, 11/04/2022 - 06:12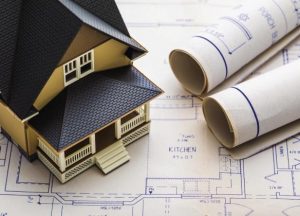 The Sallisaw Planning Commission gave its approval Tuesday for one of two plats, paving the way for residential development in the city's southwest sector. Approval was given of a preliminary pl...
The Cherokee Nation is now accepting applications for its annual Elder Angel Project, which provides Christmas gifts to Cherokee elders. Applications for the Elder Angel Project will be taken until No...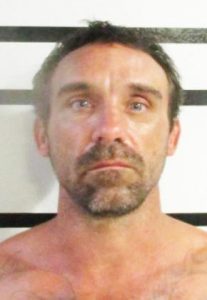 By&nbsp
Amie Cato-Remer&nbsp
A Sallisaw man charged in July with child sexual abuse and pornography following a hit-and-run accident the week prior has now been set for a Dec. 8 jury trial sounding docket in Sequoyah County Distr...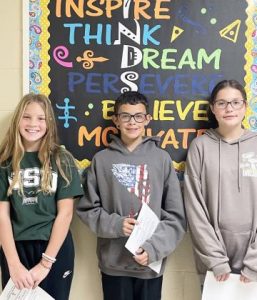 Students of the Month News Staff Fri, 11/04/2022 - 06:12
Long-Term Care Ombudsman Program serves residents in nursing, assisted living and residential care homes. The Program is administered Department of Human Services under the authority of the Older Amer...
Baptist Health Walk-In Clinic is now open at 3808 Gary Street, Ste. B, in Fort Smith. Matthew McLellan, MD, and Donald P. Samms, MD, have practiced medicine in the River Valley for more than 20 years ...
Muldrow Public Schools is hosting a Veterans Day drive-thru celebration parade, which will be held at 1:30 p.m. Friday, Nov. 11, in Muldrow. The community is invited to show their appreciation to vete...
By&nbsp
Amie Cato-Remer&nbsp
A felony arrest warrant has been issued for a Sallisaw woman charged with larceny of an automobile. Regina L. Kaderly, 26, was charged Nov. 2 in Sequoyah County District Court after she reportedly bor...
Columns & Opinions, Letters To The Editor
Dear Editor, I am a white moderate Republican. I was so stunned, and now embarrassed and ashamed to have called Trump president after all the disparaging and repulsive remarks he has made against peop...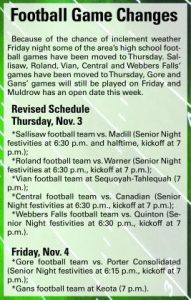 Because of the chance of inclement weather Friday night some of the area's high school football games have been moved to Thursday. Sallisaw, Roland, Vian, Central and Webbers Falls' games have been mo...
Polls will be open from 7 a.m. to 7 p.m. Tuesday, Nov. 8, for the General Election. Sequoyah County Election Board secretary Cindy Osborn offers these important tips to votersâ€&Aci...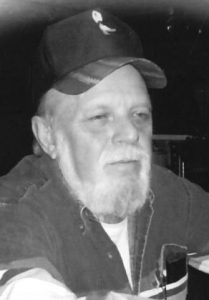 Jan. 10, 1946 – Oct. 30, 2022 Larry Truman Dawson, 76, of Sallisaw, died on Sunday, Oct. 30, 2022, in Sallisaw. He was born on Jan. 10, 1946, in Sallisaw to Dan David Dawson and Bethel (Taylor) Dawson...
By&nbsp
Pastor Reggie Kelley&nbsp
ACT LIKE CHRISTIAN!!! BE A CHRISTIAN!!! I Peter 1:1-25 1Peter, an apostle of Jesus Christ, to the strangers scattered throughout Pontus, Galatia, Cappadocia, Asia, and Bithynia, 2Elect according to th...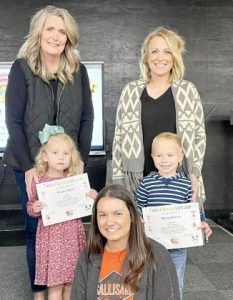 Liberty Leaders News Staff Wed, 11/02/2022 - 08:34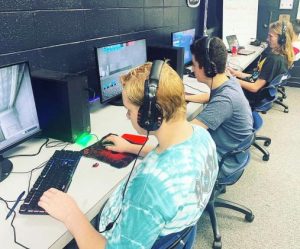 eSports team competes News Staff Wed, 11/02/2022 - 08:34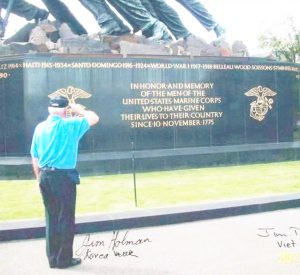 By&nbsp
Lynn Adams Staff Writer&nbsp
War, veterans will tell you, changes those who survive it. "After the war, I became a better person, because I learned the importance of things that I have," says Jim Holman, who became a successful l...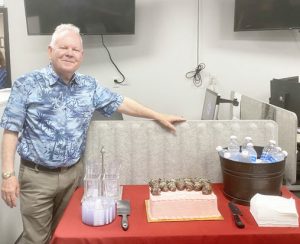 By&nbsp
Amie Cato-Remer Editor&nbsp
He has survived eight sports editors. And while never taking on the title of sports editor at Your TIMES, he has been a fixture of sports in Sequoyah County for nearly 40 years. Lea Lessley of Sallisa...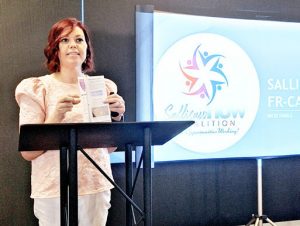 By&nbsp
Lynn Adams Staff Writer&nbsp
Slowly but surely, when it comes to fentanyl and opioid overdoses in Sequoyah County, Sallisaw NOW Coalition is overcoming denial and resistance. The organization, which is currently funded by five gr...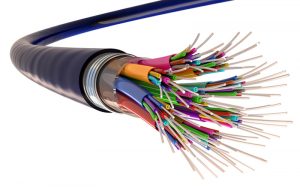 The Oklahoma Broadband Office (OBO) is hosting a statewide broadband listening tour, and is scheduled to stop in Sallisaw on June 6. The "Let's Get Digital: Oklahoma Broadband Tour" is making stops th...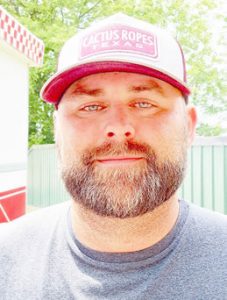 Just Folks
By&nbsp
Lynn McCulley Staff Writer&nbsp
At the age of 40 and being a single dad of six, Walter Davis of Sallisaw has the ideal business going for him doing something he enjoys and still gets to spend time with his children. As the owner of ...